PAUL LAMBIS meets a local singer songwriter most notably known for appearing on The Voice Greece, but who did not stop there
In 2014, a jazz-pop singer-songwriter from Paphos stepped into an intense oval pool of light on a show stage and delivered a jaw-dropping performance. This was during the blind auditions for the first season of The Voice of Greece, where Alex Economou's version of Bob Dylan's Make You Feel My Love resulted in a four-chair turn, and him ultimately advancing to the final rounds of the popular talent show.
Performing before a live audience and a panel of well-established artists can seem like an insurmountable obstacle, especially when they will determine your fate. After all, the audience can be supportive, encouraging, or highly critical. "Even if you are a polished singer who has studied the craft for years, you simply cannot predict the outcome of your performance," Alex admits. "Singing requires us to give ourselves permission to use our voices no matter what the response." As one of Cyprus' chart-topping artists, Alex was no newbie to the music scene, having released multiple tracks through international record labels, as well as independently.
Born in Paphos in 1988, Alex's music career started when he was just eight-years-old after his parents enrolled him in voice, piano, flute and dance lessons. Over the next eight years, Alex took part in several singing competitions in Cyprus and Greece, gradually adding accolades to his string of achievements, appearing on national TV, and even represented his country abroad at international music festivals. By the age of 19, Alex's impressive music resume was a been-there-done-that track record of industry know-how. In his quest to become a master of his craft, Alex left his hometown of Paphos for Boston where he attended Berklee College of Music.
Impressed with his exemplary and evolving singing voice, together with his academic achievements, Alex's instructors awarded him a scholarship and the institute's 'Voice Department Achievement Award'. "It was an intense four-year programme," Alex told the Cyprus Mail. "I took part in many singing and acting performances. I wanted to get as much experience as I could, especially when one is surrounded by so much talent." Graduating with top honours, Alex embarked on his new chapter as a qualified singer-songwriter ready to make his mark in the highly competitive music world.
Next stop, Los Angeles, city of dreams. It was jazz-meets-pop for Alex with the release of his first single as an independent artist. The song, Brighter Day, skyrocketed to number one on the Cyprus Music Charts, and eventually caught the attention of industry experts. Soon after, Alex was contender for Best Pop Song of the year, mingling with the stars at the Hollywood Music in Media Awards in 2012. "I was extremely honoured to receive this recognition, especially from noteworthy industry professionals," he said.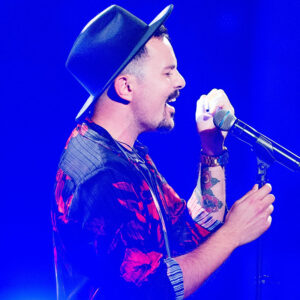 Alex's nomination inspired him to release a second single, No Criminal, which, once again, claimed top spot on the Cyprus Music Charts, also earning him the Best Jazz Artist of the Year 2013 title at the Artists In Music Awards in Hollywood. His natural talent showed he had the makings of a star, landing him top jobs in the music industry, and even the production of jingles and demos for renowned studios.
Putting the Hollywood sign temporarily behind him, Alex decided to embark on a new chapter placing him at the heart of the most populous city in the United States of America, New York. "I wanted to share my music in an up-close concert experience, and be able to connect with my audience on an intimate level," Alex says. After a series of successful acoustic shows around the New York area, he headed to Athens to audition for The Voice of Greece.
Although he did not manage to secure first place in the popular talent show, he joins the list of other celebrities who nevertheless found greater success than those who did. In the last few years, Alex has collaborated with some of Greece's top recording artists, composers and songwriters, and has performed in spectacular musicals and concerts. He is currently working on new material from Paphos, which he will be releasing soon as an independent artist.
"There is no easy road in life," Alex says. "Like everyone else, I have had my fair share of difficulties. With every door that closes, another chapter is about to open. It is a beautiful path, which allows you to determine your goals until you get there," he adds.
As for the future, Alex remains optimistic. "Although live music faced an unmatched disruption last year as pandemic lockdowns kept venues closed and performances online, I am working on new material, and finding ways to approach my audience authentically and creatively, so that they can enjoy a new engagement opportunity that is accessible to everyone from Paphos to Los Angeles, and everywhere in between."