Mali was the home of Mansa Musa, the richest man ever to walk the earth. The king of the Mali Empire from 1280 to 1337, his fortune would – in 2021 terms – be worth well in excess of $400 billion. During his reign, Musa conquered 24 cities and their surrounding districts, making Mali the largest producer of gold in the world. And even today, Mali remains the third largest gold producer on the African continent!
Of course that doesn't necessarily make the Republic of Mali a rich country; nowadays, it's actually considered one of the poorest nations in the world. The key industry is agriculture, and the average worker's annual salary is just $1,500.
Malian cuisine is rich and varied. The staple foods include rice, sorghum and millet, all cooked into delicious dishes such as tiguadege na – considered the country's national dish – a hearty stew made from chicken, potato, and carrot, all smothered in a creamy peanut butter sauce.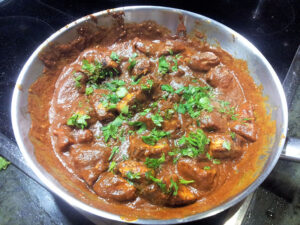 Chicken pops up again in poulet yassa, a mouth-watering concoction of chicken (marinated in a mix of lemon and vinegar) and caramelised onion, served piping hot with a side of plain rice. And lamb and goat also appear on the menu: a particular favourite at Eid, alabadja is a local culinary speciality consisting of minced meat and boiled rice in a thick butter sauce.
Fish is another favourite. One-third of the Niger – roughly 1,700 km – runs through the country, providing riverside residents with a wide variety of fresh fish dishes, including La Capitaine Sangha: fresh perch served with whole fried bananas, rice and hot chilli sauce.
Dessert, for those lucky enough to enjoy more than one course, is often bouille, or burnt milk tart – a custardy confection with a crisp crust that's made from milk, eggs, butter, sugar, and vanilla. And to drink, it's either djablani (a popular cold beverage consisting of ginger, lemon and mint) or Malian tea, a concentrated brew served in three doses, with sugar added between each…