There's lots of people with a Cyprus background who have achieved great things. Two new books aim to bring together all those that fit this description but live abroad. Alix Norman finds out more
There's a Who's Who of Australians, of Canadians, of Brits. There's a Who's Who of people in American art, in British history, and even in the CIA. And now, we're about to get our very own iteration, dedicated to the diaspora: a Who's Who of Cypriots Worldwide.
It won't be the first publication dedicated to the great and good among Cypriots abroad. A decade ago, authors Michael Yiakoumi, Dimitri Yiakoumi and Kyriacos Tsioupras, launched a similar tome; two in fact – the first featuring notable Greek Cypriots in the UK; its companion a list of distinguished Greek Cypriots around the world. Ten years on, the authors are repeating their success. The difference, says Michael, is that this time, it's not just Greek Cypriots. Now, all ethnicities are being included.
"Our very first editions were published in 2004," Michael explains. "One day, I sat down and realised just how many prominent Cypriots there were, out in the world, doing amazing things. And yet nobody was collating this information in one place; nobody was celebrating my compatriots' achievements across such a variety of fields."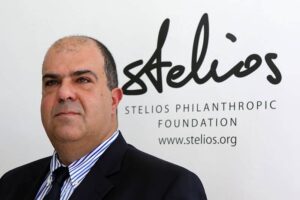 As a well-known member of the London Cypriot community, and a sports journalist and radio presenter with an extensive network, Michael decided to give the project a go himself. And the very first two Who's Whos of Greek Cypriots were born.
"Back then, we quickly recognised that there were just so many Cypriots in the UK that they merited a separate book to themselves," Michael explains. "We're doing the same thing this time round – collating biographies from all the notable Cypriots in Britain, and creating a separate book for those in other countries. And both upcoming editions will now feature Cypriots of all backgrounds: to me, we're all the same nationality, whether we're Greek, Turkish, Armenian, or Maronite Cypriot; we're all under the same umbrella."
Set for release in late 2022, the books are currently being researched, and information collated. "Every time we hear or see a Cypriot name in the news or the media, we follow it up," Michael reveals. "And thanks to the previous books, we often have people contacting us directly: 'My cousin did this' or 'my father did that, can you include him?'"
The digital age has also facilitated the process, Michael adds. "When we produced the first two books, I personally travelled from country to country collecting names and entries. I attended community festivals in Toronto, in Sydney and Melbourne, in South Africa, and New York – anywhere I might be able to source notable Cypriots. I had a wonderful time," he laughs. "But it was pretty exhausting. Now I'm 66; I'm not getting any younger. And of course travel is harder these days, when you factor in the Covid pandemic."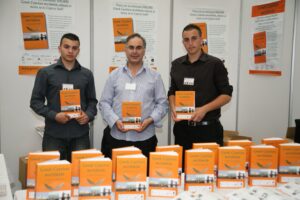 Thankfully, he acknowledges, everyone, everywhere is now on the internet, making notable Cypriots far easier to find than previously. And digital progress over the last decade has been a great boon: the authors are now able to accept online submissions. "If you, or anyone you know, is worthy of inclusion, we'd be very happy to hear from you," says Michael. "Just contact us through the 'Cypriots Worldwide' website, or upload your information directly to the page, and your submission will be personally reviewed."
Each bio will include the entrant's name, date of birth, current location, family antecedents, familial relationships, qualifications, affiliations and memberships, hobbies, and achievements, along with a clear photograph of the person in question.
The team are expecting in excess of 3,500 submissions before the autumn 2022 deadline. "Last time the Who's Who of Cypriots in the UK merited 1,000 entries, and the Worldwide Cypriots had over 2,000," says Michael. "In the upcoming editions, we expect to have far more. We'll obviously include all those who appeared in the last books, as well as all the new submissions; actually, though we only launched the new process in June, we've already had more than 2,500 submissions!"
The criteria for inclusion are fairly broad. "We'll be including Cypriots who have contributed socially or professionally to their communities," Michael discloses. "There will be Cypriots involved in politics, media, business, sports theatre, music and the arts, as well as those who have carried out invaluable social and charitable work.
"Basically, it's those who have contributed in some way to their fields, or to society," he explains. "So along with well-known figures – such as Sir Stelios Haji-Ioannou, Lord Adonis, Andros Townsend, and Dame Janet Paraskeva – we'll also be including lesser-known Cypriots who have positively impacted their communities.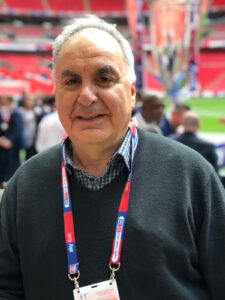 "I'll give you an example," he continues. "There's a Turkish Cypriot fish and chip shop owner in Palmers Green who donated hundreds of free meals to the NHS during the worst of the pandemic. He warrants an entry. And then there's Maroulla Hadjitheophanous, an 80-year-old Londoner who raised over 150,000 sterling for cancer research in the UK. She certainly merits inclusion."
The one group that won't be included, Michael reveals, is Cypriots living in Cyprus. "It's just too big a job," he sighs. "Researching, collating, and creating two books on distinguished Cypriots abroad is already a full-time project, without working on the hundreds of thousands of notables living on the island. Perhaps one day," he acknowledges. "But for the moment, we're looking at those of Cypriot origin (or those able to trace their genealogy to a recent Cypriot ancestor) who are currently based abroad or have lived abroad for a significant portion of their lives."
While the criteria may seem a little imprecise in places, there's nothing to stop anyone from submitting an entry, Michael concludes. "At the end of the day, both Who's Who books will be a repository of useful information as well as an homage to Cypriots abroad," he explains. "There's simply so much Cypriot talent worldwide, across so many fields. Now that's worth celebrating. And recording!"
The Who's Who of Cypriots in the UK and the Who's Who of Cypriots Worldwide will be released at the end of 2022. To submit your bio for inclusion, visit https://cypriotsworldwide.com/book-2/