Kiribati is the only country in the world to lie in all four hemispheres of the globe! Which means you can travel from north to south, east to west (and cross the date line) all while remaining in the same nation. Should you undertake such a journey, it would, however, take considerable time… While the land mass of Kiribati is relatively small, its 32 atolls and one raised coral island are scattered across a whopping 3.5 million square kilometres of the Pacific!
Located halfway between Hawaii and Australia, this remote nation is home to just 120,000 residents, more than half of whom are now based on the island of South Tarawa. While a few residents are still able to make a living from the land, the majority have turned to the sea: an endless source of bounty. Employed as outrigger sailors and fishermen, they're responsible for the islands' culinary staple: marine cuisine.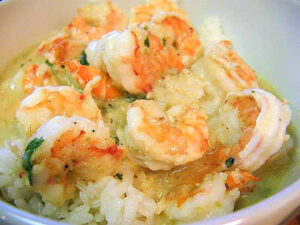 Waro is the unofficial island meal, a delicious concoction of shrimp and rice with coconut. Other fishy dishes include the bonefish burger (made from chopped and fried fish); raw fish (often tuna or flying fish) marinated in a curry and coconut sauce; and char, a fish similar to trout, which is roasted or barbecued and served up with freshly grated coconut rice.
Shrimp and lobster are commonplace here, as is snapper – which is usually grilled in a simple oven and accompanied by tasty chunks of fried breadfruit. But it's not fish for dinner every day; locals also enjoy the limited benefits of the land, including coconut, taro, pumpkin, papaya and banana, while dishes such as teia (noodles with coconut cream, onions and lime) or even coconut roasted worms (quite literally, a local annelid that's dug up and sun-dried before being cooked) are a unique alternative to seafood.
Like all Pacific cuisines, the food of Kiribati has been influenced by Chinese, Filipino, American, and British foods – including the infamous Spam, which shows up in more than a few local concoctions! Today, the world's only Spam Island is part of Kiribati! A tiny atoll, devoid of people, it's barely a metre above sea level.