A pensioner based in Limassol has put technology through its paces to produce his first CD. Alix Norman meets him
In May, David Pentecost turned 81. It's an age when most are settling intoa more gentle life. But David – a retired IT expert and cancer survivor – is ramping things up, using skills old and new to release his very first classical piano album.
"I've always loved music," says the Limassol resident. "I started playing the piano at age five or six; it drew me. The whole point of music is to stir the emotions, and that's just what a piano is made for – unlike most other instruments, you have the option to play eight or 10 notes at a time, creating a richer, fuller sound. As a career, however, music was never on the cards. My family were very supportive, but I never felt I was good enough to be a professional pianist. So instead, I pursued my second passion: computers…
"Back in the late 50s, when I was applying for college, computers were just becoming a thing," he recalls. "And as there are more than a few parallels between music and computing – they share a mathematical element; require a lot of patience, and are both exacting: programme one comma in the wrong place and the whole system blows up; add one wrong note to your composition and the whole tune is off! – I decided to pursue information technology."
David began his career in 1962 as a programmer, working for the Elliot Brothers computer firm. And over the years, he rose through the ranks, becoming a senior programmer, a systems analyst, and eventually an information technology consultant, working with law firms nationwide.
"But music was always in the background," he adds. "I continued to play for myself every day. And, on my retirement, I began composing. It was something I'd done since I was a teenager, though writing music by hand is incredibly tedious and time-consuming," he acknowledges. "But just as I was retiring, technology developed to such an extent that you could compose music directly from your electronic keyboard onto a computer. Suddenly, worlds opened up to me!"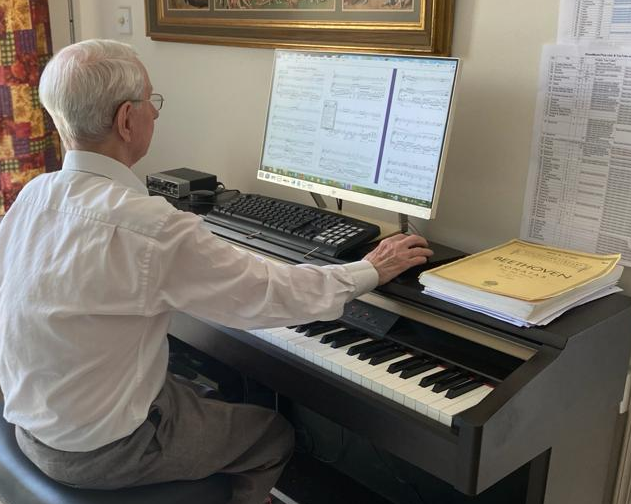 At the age of 60, David began using his technological skills to write his own music, working from keyboard to computer. He continued to compose on his move to Cyprus in 2004 and, and in his late sixties, set up both the Limassol and Paphos Piano Circles, featuring local pianists. "The Circles ran for several years," David continues. "They've since disbanded, but I'll be forever grateful because, through those gatherings, I met Tatiana Stupak."
Invited to play at the Limassol Piano Circle, Tatiana was a young piano prodigy who had just completed her training at St Petersburg Conservatory. "At that time, she had no idea how to make use of her incredible talent, and was working in a bank!" says David. "But such a gift deserved a much bigger audience, so I took it upon myself to bring her playing to the wider public…"
Today, thanks in large part to David's support, Tatiana is amongst the island's best-known pianists, and is regularly booked for prestigious concerts. But the duo's collaboration remains ongoing, and it's Tatiana who is the featured artist on David's very first album.
"The CD is entitled Tatiana Stupak Plays David Pentecost," he explains. "Because Tatiana recorded all but one of my compositions. The final track I managed to play myself – but it's not easy at this age, with arthritic fingers, to play my own compositions!"
The 17 tracks are "in the style of the romantic and baroque periods," David reveals. "People who like Chopin's music generally like mine. There's a romanticism, a sweetness and simplicity; a certain lyricism, which speaks to the heart. And of course Tatiana brings her superb talents to the album with her sensitive playing.
It's an album, he notes, that would not have been possible without a good dose of computer expertise. "Most composers simply write," he reveals, "and leave everything else to the tech experts. But, during lockdown, that wasn't possible – at the age of 81, there was no way I could be in a busy studio with a full team all day."
Instead, David decided to do everything himself. "The Pattichio Theatre in Limassol, though closed for performances, was able to open as a recording studio. So I brushed up on my IT skills, bought myself a sound recorder, and taught myself how to record music, how to edit recordings, how to master each track, and how to put them into a format suitable for CD release."
Working hand-in-hand with Tatiana, David completed four recording session between autumn 2020 and spring 2021, and the resulting album was launched on September 22: a delightful testament to a longstanding passion. "In a way," he muses, "I can hardly believe I've composed and released an entire album! It's not something you expect from an 81-year-old," he laughs.
Although David acknowledges the album was produced "mostly for posterity, for the next generation; even the record label I set up to launch the album is in Tatiana's name, not mine, because she'll be around long after I'm gone", it's still quite an achievement.
"I feel that everything came together at the right time: my lifelong love of music, my cooperation with a bright young talent, and my decades in the world of information technology. A career in computers may not seem terribly exciting," he concludes, "but those skills are ultimately what enabled me to compose, produce, and release my very own album. All at the ripe old age of 81!"
To purchase the album, or listen to excerpts from each track, visit http://tatianastupak_eng.tilda.ws/stupakrecords