The future of the Cyprus technology industry was one of the primary subjects of discussion at the Cyprus IT Forum taking place in Limassol on Friday, with a number of public and private sector stakeholders laying out their thoughts on the matter.
Although Research, Innovation and Digital Policy Deputy Minister Kyriacos Kokkinos was due to deliver the opening speech of the day, an unforeseen meeting resulted in Chief Scientist Nikolas Mastroyiannopoulos delivering the speech on his behalf.
"In the aftermath of COVID-19, Cyprus' competitiveness, sustainability and prosperity strongly depend on our capacity to develop and advance our posture as a regional tech and innovation hub," Kokkinos said in his speech.
"The government is fully committed to creating a conducive environment for tech companies and startups to form and grow, with determination, long-term strategy, a solid game plan and of course rigorous execution," the deputy minister added.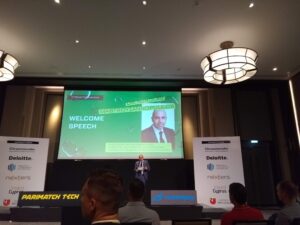 Kokkinos also stated that new incentives will soon come into force, aiming to facilitate further growth of the technology industry in Cyprus.
"Very, very soon we will announce specific interventions in our regulatory taxation and immigration policies, incentives directed to both corporate and individuals, measures to enhance digital fitness across industry and society and tools to facilitate access to funding, encourage R&D activity, advance digital transformation of businesses and promote the development of new ventures," he said.
"This is a government-wide initiative and we are confident that with the proper orchestration, coordination and close collaboration with the private sector, we will succeed," he added.
Later during the event, a panel moderated by the Managing Director of Alstrad International Sean Alimov took place.
The topic of the panel was 'Cyprus – Achieving global competitiveness to attract companies and talents'.
Panellists included Director General Research and Innovation Foundation Theodoros Loukaidis, Cyta's Niki Ioannou, Manager of Business Solutions at Cyta Business, Invest Cyprus CEO George Campanellas, University of Nicosia CEO Antonis Polemitis, and Prime Property Group Director George Dokuchaev.
George Campanellas explained how a seemingly small tweak to the government's immigration policy has been pivotal for the attraction and recruitment of non-EU technology industry talent.
Campanellas was referring to the Civil Registry and Migration Department's specialist category, which allows companies and organisations in Cyprus to employ third-country nationals who meet the criteria in a table of 26 professions.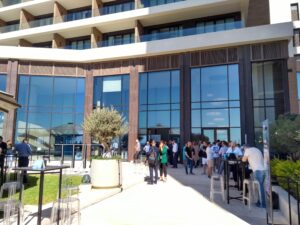 This includes such roles as software and systems engineers, data architects, information and communication technology and enterprise solution architects, and data scientists.
The RIF's Theodoros Loukaidis spoke about how Cyprus has become more diverse and professionally vibrant since his return to the island.
"Cyprus has become more cosmopolitan in the past ten years and this is the result of a number of interventions," Loukaidis said.
"We expect more investments and talent to come to Cyprus and there has been a lot of investment in research and centres of excellence to achieve this," he added.
The University of Nicosia's Antonis Polemitis spoke on the relationship between the private sector and academia, explaining how there is room for improvement in this regard.
"We need more local integration between academia and the private sector," Polemitis said.
"Most of what we do ends up outside of Cyprus," he added, explaining that the university has worked with major multinationals such as Walmart and Uber but is not seeing a similar willingness for partnerships from companies based in Cyprus.
Polemitis also mentioned that according to enrollment data available to him, Cyprus is still too centred around traditional professions such as accounting and degrees leading to public sector positions, rather than technology degrees.
Finally, the University of Nicosia CEO said that technology companies in Cyprus can fund the degrees of talented students with a view of recruiting them down the line, a practice that is commonplace in the United States.