For a while I've had the distinct feeling there is a growing thirst among the people of Nicosia for more quality and choice when it comes to international cuisine in the capital.
I'm talking about the fine details, those details that are key when it comes to recognising if a cuisine is truly authentic or just pretending to be. Good food has long become cool, something to discuss among friends on a night out, something to marvel over in a magazine or on social media.
That said, I am absolutely convinced that Nicosia's food-savvy will fall in love with the latest addition to the city's restaurant scene, Mexican joint Por Favor.
Located in Engomi, Por Favor mostly caters to the curious eater, one that is not shy to try something different, but that knows enough to recognise the amount of work and the high-quality ingredients that go into each dish.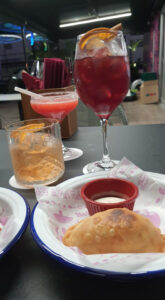 I had the pleasure of sampling a substantial amount of their menu a day before the restaurant's official opening on Friday and was taken aback by the complexity and depth of each entry as well as the place's vibe.
First of all, important to say that at Por Favor all tortillas, perhaps the most recognisable sight in all Mexican cuisne, are homemade, which really makes the difference when accompanying dishes such as taquitos, quesadillas and burritos.
But what elevated the place was the presence on the menu of Birria, rarely found in Mexican joints in Europe and even rarer, if not unique, in our island.
Birria is a traditional stew made from marinating beef with chili peppers, garlic, cumin, bay leaves, and thyme, and cooked at a low heat. The dish then is slow stewed in a pot and garnished with onion, coriander and lime. It is commonly accompanied with handmade corn tortilla as it was at Por Favor, served with melted cheese and a dip. All these flavours were clear in the dish I was served, a revelation that I'm sure will be a favourite among customers in the months to come.
Other highlights included the Chicken Habanero Bites, buttermilk fried chicken tenders served with Habanero Cajun mayo; empanadas – technically not a Mexican, but an Argentinian dish, but we won't nitpick – with slow cooked pork belly, served with herb aioli; crispy prawn taco, accompanied by guacamole, sweet chili mayo and served with mango slaw; and the sensational dessert mini calzone, an empanada stuffed with Nutella and mascarpone served with vanilla ice cream. Delicious!
The location feels young and up-and-coming and, with two universities and several student accommodation facilities nearby, the place will never be empty. Inside  is decorated with handmade paintings representing traditional Mexican iconography by local artists, adding to the cool ambience.
Extra points for the excellent cocktails featured on the drinks menu, including margaritas (try the mango one, again delicious!) and the complex Old Tequila fashion with Patron reposado, agave syrup and angostura bitters.
"What I like the most about making this kind of food is the possibility of opening up a world of flavours to customers," chef Theo told me. He is the creative mind behind every dish at Por Favor, with a previous stint at Bottega Amaro, in my opinion one of the best Italian places in Cyprus.
"I thoroughly studied and researched the rich and complex Mexican cuisine before deciding to move to Por Favor. We owe it to our diners to provide them with a unique and rich experience in what I believe to be one of the best cusines in the world."
Take my word and most importantly Chef Theo's and try it for yourself. Por Favor might just become one of the most sought-after joints in no time.
VITAL STATISTICS
SPECIALTY Mexican
WHERE Markou Drakou 3, Engomi, Nicosia
WHEN Monday to Friday 10am-12pm, Saturday and Sunday 9am-12pm
CONTACT 77770510
HOW MUCH Starters from €6 to €9.50, mains from €7.50 to €15, desserts €6, drinks from €6 to €8