From coffee to plastic, companies left waiting months for orders to arrive, then hit by massive price rises
Importers and manufacturers are warning that while some price increases have so far been kept from the consumer, they cannot remain so, and the full impact will be felt in the new year.
Coffee importers G. Charalambous told the Sunday Mail this week that the price of Brazilian coffee has risen 130 per cent in the past six months. This and other price increases have not yet been passed on to shoppers, but it is just a matter of time, the company said.
Meanwhile Papadopoulos Plastics Ltd, manufacturer of plastic bags and foodstuff packaging, told the paper his raw materials have doubled in price while his electricity bill for 2021 will be a whopping €200,000 more than last year.
Company director Christodoulos Papadopoulos said the spiralling costs of raw materials and energy amid supply chain shortages and other glitches which have followed from the pandemic, and left so many companies struggling, will have a worse effect than the 2008 economic crisis which hit Cyprus so hard in 2013.
"I believe this will be the final blow for many businesses that survived in 2013 [when the haircut on deposits was imposed]," said Papadopoulos.
"How can a company survive these higher costs with depleted cash flow?"
Data by the Statistical Service showed that in September alone, housing, water supply, electricity and gas prices rose 14 per cent, transport by 11.5 per cent, and food and non-alcoholic beverages 1.47 per cent.
Papadopoulos said between January and September, his electricity costs went up by 56 per cent leading to a €200,000 price rise from last year.
But shortage of raw materials is also an issue.
"It has become a question of if we are going to find materials," he told the Sunday Mail. "And if we do, it's a question of when they will arrive."
He said he ordered a shipment last August. This has yet to arrive due to logistical bottlenecks in most ports, including lack of containers.
Experts say that during the pandemic, when demand for goods had dropped, cargo vessels would skip some ports and many empty containers were left uncollected.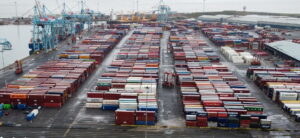 Post-lockdowns demand spiked for many products and raw materials again while staff shortages and port congestion fed the demand for shipping containers.
A letter sent to Papadopoulos by one his German suppliers, explaining why they had to raise their prices, paints a grim picture.
"The increased cost for auxiliary and operating materials turned out to be much higher than expected. We are also confronted with significantly higher logistics costs for the year 2022. Energy costs rose by 14.3 per cent. Paper and cardboard as well as wood became more than 40 per cent more expensive," the letter said.
It is estimated that the situation will remain tense throughout 2022, the supplier said.
Papadopoulos said raw materials for his business have doubled in price between October 2020 and last April.
Inevitably, he said, all this would roll into the product cost, which has not thrilled his customers.
"But what can I do?" he asked, adding that it was not feasible to sell at below cost.
As regards his products, depending on materials, he said this would impact consumers by between a 20 per cent to 40 per cent rise.
Papadopoulos believes the situation is going to go "well into the next year".
For coffee roasters and nut importers G. Charalambous, the biggest issue has been the disruption in the supply chain.
"It affects many commodities, including coffee," a company representative told the Sunday Mail. This, in tandem with expensive raw materials, lack of shipping vessels and containers, pushed prices further up.
"We asked for shipping in October, we are told it can arrive in November, even December," he said.
Companies, he added, are forced to keep raw materials in stock, but this also comes at a cost since they need to arrange for storage. Sometimes they are even told there is no stock to purchase.
Transit from US and Brazil is now at 40 days which means they need to keep stocks of at least three months.
Shipping costs, meanwhile, have also more than tripled.
For a 40-foot container, G. Charalambous used to pay around €4,000, now the costs are between €14,000 to €18,000.
Adverse weather conditions, in tandem with the pandemic, also affect coffee imports.
Earlier in the year, the world's largest exporter, Brazil, saw its crops impacted by drought and frosts, leading to a price increase of 130 per cent in the past six months.
In addition, the strict lockdown in Vietnam, which is the world's second-biggest exporter of coffee, has halted supply. Vietnam, a major producer of robusta used in instant coffee and some espresso blends, is currently trying to contain the spread of the Covid-19 Delta variant and has imposed strict travel restrictions.
According to BBC, wholesale robusta bean prices have risen by about 50 per cent so far this year.
According to the G. Charalambous representative some of these price hikes are transparent, but some are not. "I believe, in the case of Brazil, given the opportunity, some drive their prices up."
The company also imports nuts. "There too, prices are inexplicably, ridiculously expensive," he said.
They import almonds mostly from the US, and other types of nuts from China, Russia, India and Europe.
"The peculiarity is that all raw materials prices have risen after Brazil raised its own," he said.
He assessed that if the disruption in the supply chain is due to staff shortages it might take a few months for things to come back to normal, but if "this anomaly" carries on, the problem will last longer.
The uncertainty is compounded because "no one can predict" what will happen.
He said that the company is trying to retain its prices.
"So far, we have not raised them," he said, but warned that the biggest wave of high prices will be felt at the beginning of next year.
Increase in tourism could offset some of the issues for struggling businesses, but Papadopoulos warned that this leads to another problem.
"We might have consumers willing to spend but there is not enough supply of goods."