Yet another relatively new addition to the ever expanding bar and restaurant scene in Larnaca is Legends bar and grill, located on a side street a stone's throw away from the Phinikoudes sea front.
Legends claims to offer a unique concept of good food and high quality drinks so I was keen to go down and check it out. The outside of the building and the sign all look fairly modern, however, when going inside, you realise from the beautiful stone arches that the building is far from modern, it is one of the town's beautiful historic buildings refurbished and repurposed. Including giant screens showing sports.
We turned up without a reservation but that didn't seem to be a problem and the friendly hostess let us choose where we wanted to sit. Looking at the décor and the menu, there was nothing that seemed new or unique. In fact, quite the opposite, one of the sauces used is also used in another well-known bar and grill restaurant! There were different posters and memorabilia scattered around on the wall and the tables were wooden and very plain.
The menu isn't huge but, it includes more or less what you would expect; salads, grilled foods, burgers and the 'chef's choice'. There was the addition of a taco corner on the menu which isn't something you find everywhere. There is a separate menu for brunch which is available from 9am until 12.30pm.
The descriptions of the food sounded good but, there was nothing inspiring or that jumped out as something different that I felt like I really wanted to try so, I ordered a simple classic burger with curly fries. My friend said he likes to taste a well-seasoned and well-cooked burger without having the sauces and cheese take away from the flavour so, he simply ordered two patties in a bun! We ordered the burgers to be cooked medium. To avoid any potential confusion further down the line, my friend asked the waitress to repeat the order, which she did. Everything seemed fine and everyone was happy.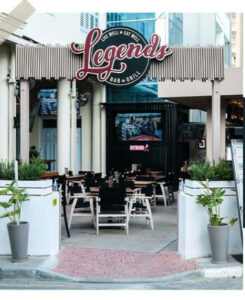 The burgers arrived 10 minutes later! Personally, I thought that was a little too quick. How could freshly made burgers come out 10 minutes after placing the order? My friend quickly realised that the order was wrong. As stated on the menu, his burger was loaded with melted cheese and smothered in sauce. It was as if the chef just saw 'classic burger' on the order sheet and quickly whipped up two of the same as fast as he could. It was a little disappointing because, how hard can it be to prepare a burger with nothing on it?
My friend managed to get the attention of the manager and told him about the mistake that had been made. The manager said that he would replace the order however, he come across as being a little angry and annoyed when speaking to us. We felt awkward and as though WE had done something wrong so my friend declined the offer of a new burger and just tried to scrape off as much as he could from what was brought to him.
To top things off, the burgers were very overcooked, dry and not seasoned well at all. Definitely not medium.
While eating, we overheard the manager telling off the waitress for getting the order wrong which made us feel even worse! Seeing as she read the order back to us, we knew that it wasn't her fault.
It seems as though there might still be a few teething problems at Legends so, I wouldn't rush back so eat there. That being said, I did like the building, the large screens and the beer selection was pretty impressive so, I would possibly go again to watch a match with friends or even to attend one of the live music events that they host.
VITAL STATISTICS
SPECIALTY Bar food
WHERE Legends, Nikolaou Laniti 27, Larnaca
WHEN Daily, 9am to midnight
HOW MUCH Burgers from €10.90
CONTACT 24 642494