In a virtuoso bouzouki player, PAUL LAMBIS finds a woman who has benefitted from the healing power of music
Bouzouki virtuoso Georgia Kombou, and the rightful successor in the lineage of notable players, insists that music has magical and healing power. Over the past two years, it has soothed and transformed her pain and loneliness, bringing hope and solace to her world after she was struck with cancer.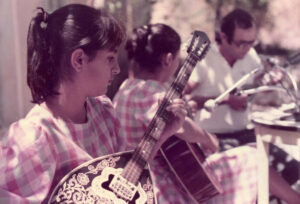 Georgia is one of the first Greek Cypriots to achieve worldwide recognition playing a traditionally male instrument. She started playing other musical instruments at the age of nine, before her father brought a bouzouki home and encouraged her to play. Realising that Georgia had a musical talent beyond her years, he enrolled her in private music lessons.
"I began music lessons at the Hellenic Conservatory of Music and Arts under the direction of renowned bouzouki teacher Costa Sofianos, who had a profound impact on my career," Georgia told the Sunday Mail. "We started out as a duet with my sister, and it was not long before we were performing on stage."
Georgia soon became a victim of verbal aggression, bullying and harassment, largely due to the gender stereotypes that existed at the time. "I often felt the impact of playing a 'male' musical instrument, especially the bouzouki, which requires strength to play," she added. "It is a very physical instrument, given the string tension and the reaches, and as a woman, I faced discrimination and encountered countless closed doors."
However, putting her fighting spirit to good use, Georgia continued her music education and training, eventually attracting the interest and support of renowned music professionals and artists in the Greek music industry, including composer Thanasis Polykandriotis who presented her with many opportunities at the start of her professional career. "He brought me the recognition that I have in Cyprus today," she admitted.
In 2011, Georgia received a proposal to collaborate with the largest contemporary circus producer in the world, Cirque du Soleil – an opportunity she turned down due to other work commitments. Eight years later, and after multiple album releases, live performances, international awards and acknowledgements, including the bronze medal for music composition at the Global Music Awards in California, Georgia reached the pinnacle of success when her music was selected as part of the soundtrack to the film Trip to Greece, the fourth instalment of the highly successful series.
As the adage goes, things often come to a grinding halt. This was the case for Georgia in 2019 when she was diagnosed with a rare kind of cancer. "I had just completed the filming of her video clip for Zorba's Dance, when I experienced sharp, shooting leg pains," she revealed. "At first I assumed it was leg fatigue, and discomfort after standing all day."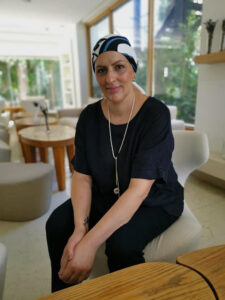 But she was diagnosed with sarcoma cancer, which Georgia said changed her life and body forever. "I felt a range of strong emotions, such as disbelief, fear, sadness, and anxiety." Once the reality of her diagnosis had set in, a sense of anger emerged. "The hardest part about being diagnosed with cancer is that there is really no one to be angry at," Georgia said.
"There came a point where I realised that constantly being mad and miserable was doing nothing but making me more upset," she said with a smile and a tear in her eye. "I realised that to beat this [cancer] I would need to find that same fighting spirit, to help me accept this as my new, however temporary, normal." Georgia reached out to her old 'friend' for support.
Georgia described how playing the bouzouki during the treatment process, gave her a boost to carry on and continue. "Music had a positive impact on my well-being, anxiety, depression, mood, and pain. It made me look up, take a deep breath, and work harder."
A study of newly diagnosed patients at the cancer institute of the University of Utah reveals that music therapy is an evidence-based practice that improves quality of life in people dealing with cancer. For Georgia, it was the distinctive sound of her bouzouki that relieved and transformed her pain into hope and optimism for a cancer-free future.
After two 12-hour medical procedures and several cycles of chemotherapy, Georgia re-emerged stronger than ever, using her experience with cancer as a stepping stone to make a difference, raising awareness, and using her music to help other patients cope with their emotions.
Aside from the bouzouki, and the support of her family and friends, Georgia believes her faith has played a major role in her life, even to this day. "Whenever I feel an obstacle is too great, I can always turn to God in prayer, and He will help me through it."
Seated in her living room, surrounded by an ensemble of musical instruments, wall-mounted awards, and an impressive photo collection of a who's who of Greek music industry favourites, Georgia shows no signs of stopping. She is currently working on a new album, scheduled for release in 2022, offers both in-person and virtual music lessons, and is on the hunt for the next girl who will play the bouzouki and become her successor.
She reaches for her bouzouki and places it horizontally across her lap, adjusting the strings, giving me the first taste of her new song, which allows listeners to build their own mesh of meaning. A few seconds in, melody, memory and emotion are interwoven, and my brain releases that feel-good chemical that allows me to recognise the inimitable power of music.
Watch the full interview on Culturescope