When is a shoebox a gift? Why, when it's packed with toys and trinkets for kids, of course!
Over the years, we've seen several seasonal Christmas Shoebox Schemes in Cyprus. And in 2021, two local communities have launched their very own shoebox appeals, asking the kind-hearted to donate gifts to children who might otherwise miss out on the joy of Christmas.
LARNACA
We started our shoebox appeal several years ago, when someone told us about a similar effort in the UK," says Karen Pekris, who heads the Larnaca scheme. "To date, we've handed out hundreds to children in the area whose families might not be able to buy them anything at such a special time of the year. In 2020, over 270 shoeboxes were donated and given!"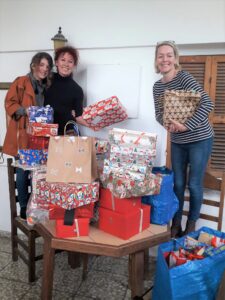 While Karen acknowledges that the scheme may have its detractors – "not all adults will agree that kids need toys for Christmas" – she asks that people recall their own childhoods. "Think back to when you were young, and how special Christmas was to you. For a child, there's a very magical feeling to this time of year, and we don't want anyone to feel left out because their families can't afford to get them anything.
"It's not necessarily about toys or games," she adds. "It's about making sure all our children feel cherished. And for a child who might otherwise have nothing, a box of simple little gifts will be very special. They'll have friends who may be getting games, dolls, and gadgets. But that's impossible for some families, especially after the year we've just had; they're really struggling, and a Christmas gift may be the last thing they can provide."
Along with four other members of the community, Karen is responsible for the Larnaca shoebox appeal. And this involves collecting, sorting and checking each box before it goes out, as well as maintaining a list of recipients.
"Everything is completely confidential," she explains. "Families whose children might benefit from the scheme, or people who are aware of children in need contact us and let us know where to take the gift. We don't take any surnames of any children – everything is done on a first-name basis, so nobody knows who a box will go to.
"We already have over 98 children on our list," she continues. "And we'll certainly be adding more as we get closer to Christmas. So if you know of a child who might otherwise be giftless this Christmas, please get in touch; it's totally confidential, and a great way to show you care.
"Creating a shoebox certainly won't break the bank," she adds. "It's easy to pop a few extra items in your cart when you're at Jumbo or Tiger, and then put them in a shoebox. And it's also a wonderful way to teach your own children the value of caring for others: several of the people who donate gifts have told us their own children use their pocket money to add a little something to the box."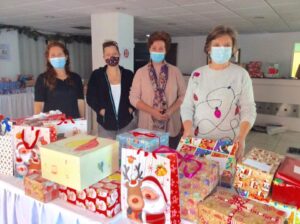 Karen asks that gifts are packed in a shoebox or similarly-sized box – "although we'll happily take loose donations and add them to what we already have" – and that the box is then wrapped. "But we do request that boxes and lids are wrapped separately," she notes, "because we need to check the contents are appropriate for the recipient: we have everyone from babies to older teens on our list."
The deadline is December 6 – "which gives us time to sort through everything, and organise what goes where," says Karen – and drop-off points include Cyprus Life in Oroklini, the Flamingo Hotel on Mackenzie Beach, and the Tree of Life in Larnaca town centre. "And any surplus gifts go to the Larnaca Municipality who maintain their own list of needy families," Karen concludes.
NICOSIA
Nicosia is also running a similar scheme, with all gifts going to the children at the Kofinou Refugee Camp. The scheme is run out of St Paul's Cathedral in the centre of town, and any gifts are appreciated, say the organisers.
"Shoeboxes are ideal," says helper Martyn Henry. "But we're happy to accept loose items, Christmas stockings, or gift bags. Anything you would like to give will be gratefully received: whatever you might imagine will put a big smile on a child's face come Christmas morning, especially items that will create ongoing enjoyment, such as toys, paintboxes, or board games."
St Paul's are asking, in particular, for gifts for boys between the ages of 12 and 14. "But we will gladly receive any gifts, and ensure they get to the right child. It doesn't matter what you give, we always know of children who will appreciate a present," Martyn notes. "There are so many people who have absolutely nothing, and anything we can do to help them is a bonus.
"At St Paul's, we work year-round to help anyone less fortunate, it's our mission statement. But Christmas is a particularly important time for children: many will be enjoying exciting new toys and games," he adds. "And there are lots of children who don't have that luxury at any time of the year."
The St Paul's scheme shares the December 6 deadline, and gifts can be left at the Church Office between the hours of 10 am and 12 noon from Monday to Friday. "Or you can drop off your boxes at the weekend, when there are always lots of helpers at our morning Bookshop, Thrift Shop and church services. Whatever you can give will be very gratefully received."
INSTRUCTIONS
Fill your box, bag, or stocking with child-appropriate gifts.
If you are donating a box, please wrap the box and lid separately so contents can be checked.
Loose items can also be donated. Organisers will ensure they fill out a gift.
Write and include a card to the child, if you like.
Include a note specifying the age and gender of the intended recipient.
Drop off your gift before the December 6 deadline. (The Larnaca scheme can also send someone to collect your gift if needed.)
DO include:
Toys: Cuddly toys, dolls, toy cars, small musical instruments, yo-yos, skipping ropes, balls, small puzzles
Stationery: Pens, pencils, crayons, felt pens, notebooks, calculators, colouring or picture books
Toiletries: Toothbrush, bars of wrapped soap, comb or hairbrush, flannel
Others: Hat, gloves, scarf, cap, socks, hair accessories, plastic jewellery, sweets (nothing that might melt!)
DON'T include:
Used or damaged items, war-related items, anything religious or political, sharp or fragile items, anything that might melt or leak
DROP-OFF POINTS
Larnaca: Cyprus Life in Oroklini, the Flamingo Hotel, Tree of Life
Nicosia: St Paul's Cathedral office (between 10am and 12 noon, Mon-Fri)
MORE INFO
For more information, contact Karen on 99 596829 (Larnaca) or St Paul's on 22 445 221 (Nicosia)