THE POLICE state is back in action and more forceful than ever before. It has a new excuse for picking up citizens and locking them up in quarantine prison – the Omicron variant, which despite scientists claiming its effects are milder than previous variants, is being handled by the authorities as something akin to the bubonic plague.
Three students, found to have been infected by Omicron were locked up at the state Covid colony in Tersefanou, no questions asked. The spokesman of the health ministry, Constantinos Athanasiou, announced that anyone found to be Omicron infected will end up at the Seniors' Resort being used as a quarantine facility, which led to 14 more following the students in by Saturday afternoon.
"The positives, who could be possible Omicron cases would be led to compulsory state quarantine," said Athanasiou, reassuring us that the three students were already there. Their detention may be unlawful as the matter of state quarantine would be put before the council of ministers next week.
In other words, the cabinet needs to approve the decree for locking up people infected with Omicron in the Tersefanou Covid colony. There is no such decree, but neither is there any need to follow lawful procedures in the police state, which can suspend personal liberties in the name of public health whenever it feels like it.
Nobody is going to complain or protest because most of us are happy for our rights to be violated by the state. It makes us feel secure and loved.
BUT IF the forced quarantine has to be put before the cabinet how can Athanasiou declare "If someone comes and is positive and possibly an Omicron case then he will go to state quarantine"?
I assume he was not referring to people coming from Paphos to Nicosia, but to people coming from abroad. I pity all the overseas students returning for Christmas and spending their holiday in the Covid colony. Would this be the fate of tourists as well, or does the Hoteliers' Association need to be asked first?
On Friday, Athanasiou said 500 students and citizens from the community were told to have PCR tests in Limassol. If 10 per cent of them tested positive, and are deemed a possible Omicron case, the Covid colony will probably run out of rooms.
Next step could be for the state to take over one of those luxury cruise ships anchored off Limassol and put all the possible Omicron cases there. That will guarantee the benign variant does not spread in the community and the triple vaccinated can feel safe once again.
Meanwhile, it might be an idea for the Tersefanou Covid colony to organise parties for Christmas and New Year for its infected guests. Compulsory state quarantine should be fun as the inmates are doing time, not for any crime but only because of government stupidity, which believes it can contain the spread of Omicron.
WOULD the police state put a 10-year-old infected by Omicron in the Covid colony? If they are old enough to be vaccinated they must also be old enough to do time and from Monday five to 11-year-olds will be eligible for the jab. How many parents will take their kids to be vaccinated is the big question, considering they are not at risk.
Already people representing primary school parents' associations, understandably, have expressed doubts about vaccinating their kids but it will fascinating to see how they cope when the authorities unleash project fear and start guilt-tripping them, telling them vaccinations were for the good of the community and the only way to keep schools open. If they are blocking roads and bombing schools over the mandatory masks how would they react to jab pressure?
Before I am accused of being an anti-vaxxer (I find them marginally more irritating than pro-vaxxers), I would like to state that I am due for my booster shot, which I will have when I decide on which day I want to feel ill. I have also served time in the Covid colony last January and I would rather get a third, fourth and fifth jab rather than waste another fortnight of my life holed up in there.
PREZ NIK was in Israel on Tuesday for the first Cyprus-Greece-Israel trilateral summit without his buddy Bibi Netanyahu, who is no longer the PM. Naftali Bennett, the new prime minister of Israel, got into the swing of things without any trouble, keeping the trilateral show on the road.
The eighth trilateral summit, of which the only permanent fixture is our Nik, produced yet another joint declaration about security and stability in the region, facing destabilising factors, cooperation on climate change and the pandemic and of course the pursuit of the EastMed pipeline.
Indicative of the talking shop nature of these joint declaration producing summits is that they never fail to stress the leaders' commitment to the EastMed pipeline, a fantasy project that will never happen in the next 100 years.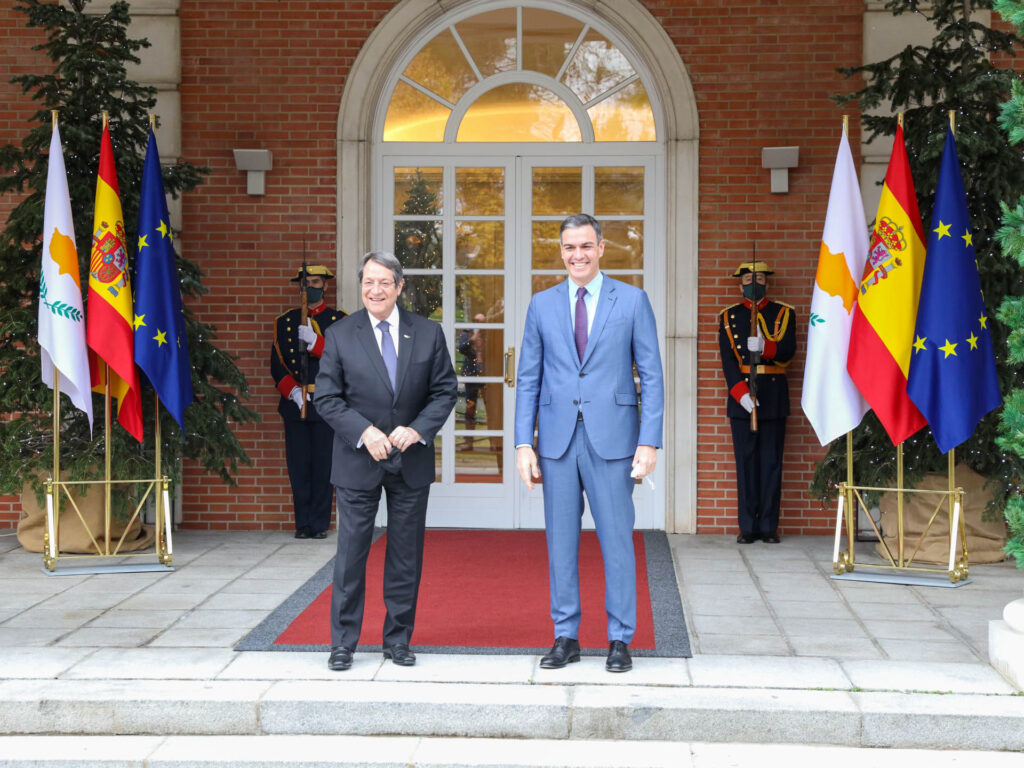 AT LEAST the summit proved more successful, diplomatically speaking, than Prez Nik's visit to Spain, where he failed to persuade prime minister Pedro Sanchez to say anything mildly critical of Turkey. They discussed migration, their commitment to the recovery and resilience fund and signed a memorandum of understanding on health and diplomatic educations.
Phil was so incensed by Spain's stance, it headlined its report, 'The word 'Turkey' a taboo', saying the joint communique "referred to the EEZ and Varosha but not the culprit." It would appear Spain has taken over the Turk-loving role of Britain in the EU, even though they reiterated that a peaceful, prosperous, stable, secure Mediterranean was a strategic priority for the EU.
On the plus side, our Prez and Andri had lunch with King Felipe VI of Spain at the Zarzuela Palace.
THE UN Special Representative Colin Stewart has arrived at the dream posting of Kyproulla, where he will be able to take it easy and consider it a big diplomatic success if he arranges a meeting with one of the two leaders every couple of months.
Stewart has started well by arranging a cocktail reception at the Ledra Palace on Tuesday, which both leaders said they would attend. Whether they will talk to each other remains to be seen even though they could bump into each other at the bar as Tatar is as partial to a drink as our Nik, even though it is not widely known.
Meanwhile, Stewart will go back to Canada and return to the divided island early next year with his family. He is here for the long haul, as the resumption of talks could happen any time in the next few years.
ON MONDAY Akel battle-axe Irini Charalambidou, as chairperson of the House human rights committee had a rant about the male-dominated public service saying that when it came to promotions there was a glass ceiling for women. Of the 11 ministry permanent secretaries only one was a woman and there was just one female ambassador at the foreign ministry.
The gender diplomacy that foreign minister and undercover presidential candidate Nikos Christodoulides announced to the world more than a year ago, with promises to promote gender equality wherever he went, does not seem to have been put into practice in his own pad.
He even hired a full-time special advisor on gender issues to help him in this noble pursuit but despite all the fanfare Kyproulla has just one more female ambassador than Saudi Arabia, which is not so hot on gender equality.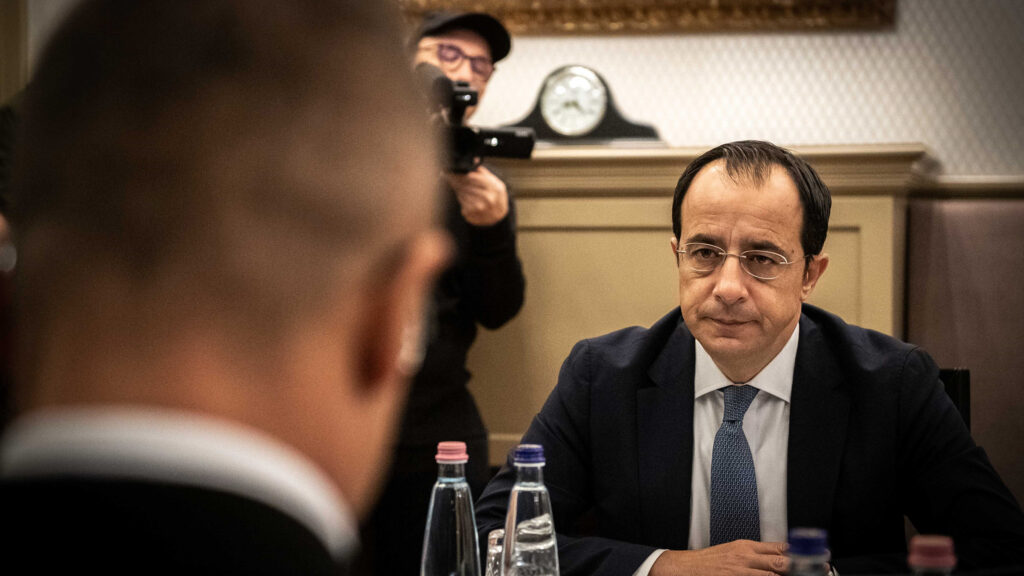 THE GENDER equality diplomacy may have been yet another election campaign gimmick, an attempt to build support among female voters at a time when it was premature (as it is now) to deal with the presidential elections of 2023.
In fairness, the undercover Paphite has proved his commitment to gender equality by allowing his wife not only to hold a top position at the foreign ministry and act like she owns the place but he has also bent the rules for her, not posting her abroad despite remaining in Kyproulla for the last eight years. According to ministry rules, after four years at home, a diplomat must be posted abroad but this rule does not apply to Mrs Karsera.
Yet the diplomatic first lady still enjoys all the benefits of diplomats, like having her children's school fees paid by the taxpayer even though they have been based in Kyproulla for the last eight years. And all four daughters of the foreign minister have been attending one of the most expensive private schools of the capital (the eldest graduated) at the taxpayer's expense. Annual fees range from six grand for kindergarten to 14 grand in the final year.
To be fair, anyone who can find a lawful way to get the taxpayer to pick up the bill for his kids' school fees would do it. But someone with presidential ambitions needs to show a little faith in the state schools where the voters send their kids.
OUR ESTABLISHMENT would like to extend our congratulations to Xylophagou Mayor Georgios Tasou for the wonderful Christmas decorations and lights that have been placed on the big dick potato. The Christmas potato is unique and its picture could be used for Christmas cards. It might be too late this year but next year it should be merchandised properly. He can sell imitation potatoes that people can decorate and put in their homes or offices, or have a miniature potato dressed as Santa Claus… I think we will tender for the Christmas merchandising of the potato next year.