Outsourcing provides many opportunities for companies that need resources or specific knowledge. The key to success is the right choice of a remote team. This article provides recommendations on how to find the most suitable electronic design company.
Company's expertise and capabilities
To find out more about the expertise and technical capabilities of your potential partner, you may need to clarify the following issues:
Technology platforms
Computer-aided design (CAD) software
Equipment and instruments
Testing and validation
Deliverables
PCB manufacturing
Other Important Aspects
Rates by regions
Rates vary according to the company location and the skill level of engineers engaged in the project.
Payment
Payment terms, currency, and payment methods have to be cleared before an agreement.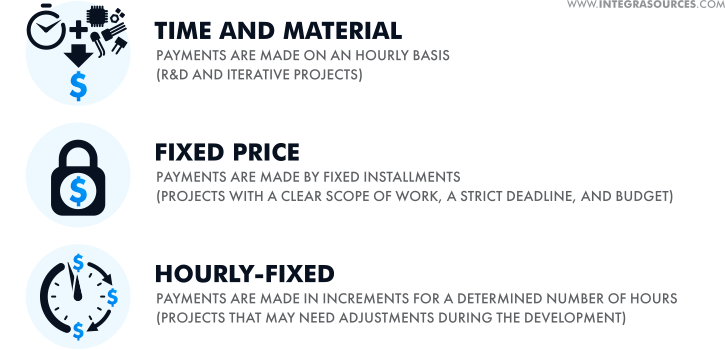 Approaches to Collaboration
The right approach to cooperation can guarantee on-time and on-budget project delivery.
Use either a more flexible agile approach or a more rigid waterfall one. Integra Sources tends to prefer the agile model as it is a better way to meet customer expectations.
Outsourcing electronic design companies may have different collaboration frameworks such as:
project-based outsourcing;
dedicated development team;
research and development;
technology consulting.
Project Management and Communication
In well-structured companies, responsibilities are shared among the team members for successful work.
Project management tools and online meetings are great for tracking progress, getting the latest updates, and keeping in touch with the customer.

Ethical business approach and fluent English help to smooth out misunderstandings caused by possible cultural and other differences.
Time zone differences may cause some difficulties, but such situations are always solvable.
Workflow
The workflow should be well-organized on both sides.
Your participation might be necessary at some project development stages. A detailed document with your business requirements can help to stay within the budget and timeline.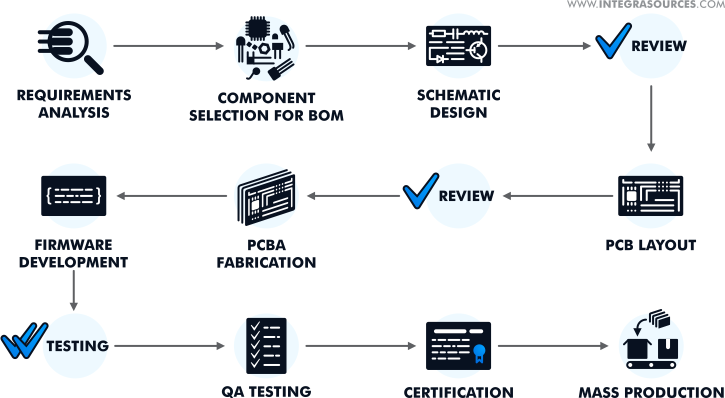 Example of the electronics design workflow
Inform your contractor about any changes as electronics design modifications can be complex and time-consuming.
The involvement of your internal experts is critical to evaluating the results of work, especially if your device is part of a system or has a complicated enclosure.
Intellectual property rights
Signing a non-disclosure agreement (NDA) is a common practice when working with an outsourcing company. We also recommend you sign a detailed contract.
Reputation and acknowledgment
Any feedback given by clients on special platforms can be helpful when choosing an electronics design company.
A high level of service and customer satisfaction results in long-term relationships. Many of Integra's customers are regulars.
A conversation with engineers may help you form an idea about the company.
If you are not sure about the outsourcing team, start with a small project.
Similar projects in portfolio
Relevant experience of the outsourcing company can speed up the development process and save your budget.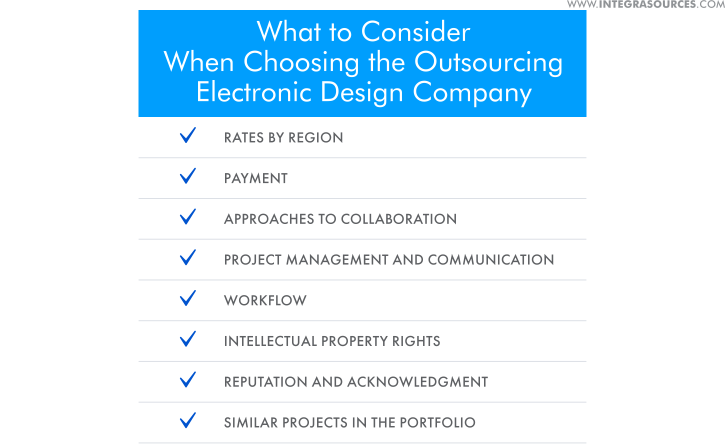 Projects may require hardware and software development. It's better to have all project parts built by one team.
Conclusion
The global outsourcing market offers many electronic design services. Use our guide to choose the right company and make the best of this cooperation. If you have any questions about outsourcing hardware and software development, you are welcome to contact Integra Sources here with your inquiries and ideas.