Merry Christmas! Today is the end of Advent, a period which references the Latin adventus, or the 'arrival' of Christ. But there's a lot more to the last few weeks than you might know…
The 9-million euro advent calendar
Advent Calendars traditionally begin on December 1 and run through to Christmas Day. Each day, there's a little window to open, behind which you might find a colourful scene, a yummy chocolate, or perhaps a mini gift. What began in the 1800s with the German Lutherans has turned into a commercial hit: today, everyone from YouTube celebrities to retail giants tout their own version of the advent calendar, often containing make-up, beauty products, or jewellery.
But for those with more money than sense, Advent celebrations can be a tad more costly. This year's Ingle & Rhode's 'Fine Jewellery' calendar set buyers back almost €30,000 (earrings and necklaces culminating in a €6,000 sapphire engagement on Christmas Day)! Slightly less – but still eye-wateringly expensive – is the Old & Rare Whisky advent calendar: priced at €1,200, each window opens on an award-winning dram! And then there's the World's Costliest Calendar, a custom creation for an anonymous Swiss family, which contains a diamond encrusted Chanel purse, a gold and emerald lamp, and Louis Vuitton luggage. The whole thing cost a whopping €9 million. A sum that would, according to the Feed One Child appeal, feed 900,000 hungry children for an entire month.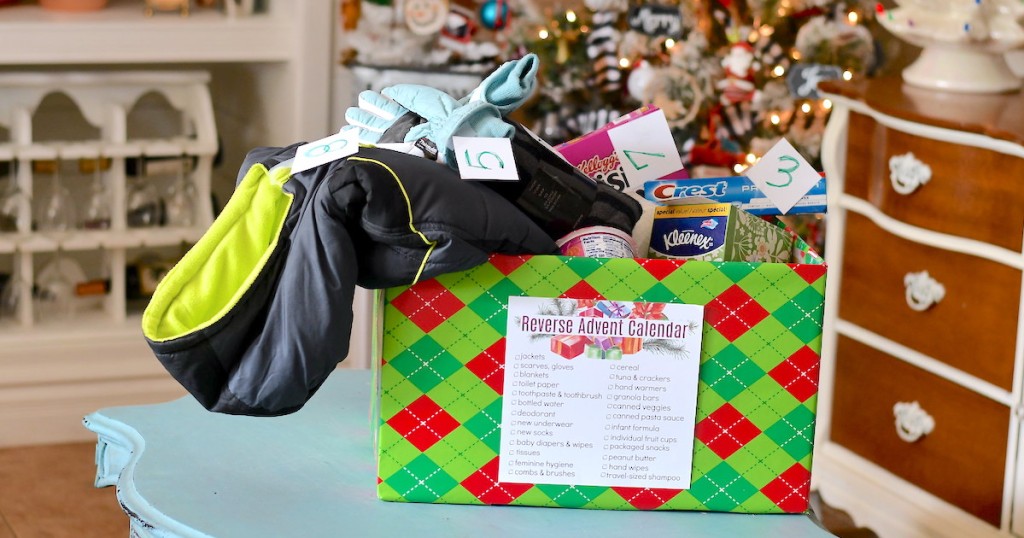 Reversing the trend
On the other end of the scale, and far more in line with the reason for the season, we get Reverse Advent Calendars. A recent concept, these emerged about five years ago in Britain and the States, and have turned the whole concept of celebratory calendars on its head. A wonderful idea, Reverse Advent Calendars are yet to hit our local headlines, although popular parenting site Mums in Cyprus posted about the concept in 2018 and more than a few families are known to have created their own version for refugee organisations and the like.
Instead of receiving a gift, those taking part donate an item each day during the period of Advent, giving back to those less fortunate. Popular with parents who are teaching their children social responsibility (and that happiness doesn't necessarily come in a 9-million-euro package!) reverse advent calendars see participants adding a useful item to their 'calendar' (usually a box) each morning. And then, as Advent ends, the entire donation (items often include soap, towels, dried foodstuffs, tins, tea, blankets, and coats) is dropped off at a homeless shelter or sent to a charity so that those in need can benefit from a little Christmas kindness.
Getting the (giant) goat
Heard about the advent goat? In Sweden, the Yule Goat has long been a traditional symbol of Christmas. Usually made from straw or roughly-hewn wood, this Advent ornament has its origins in ancient pagan festivities: Thor, it is believed, rode two goats – Tanngrisnir and Tanngnjóstr – across the sky, and the creation of one's own decorative goat was a form of mid-winter worship for centuries.
Then, in 1966, the whole thing got a massive update with the Gävlebocken. Erected in the Swedish town of Gävle on the first day of Advent, this huge creation (usually made from traditional materials: straw or wood again) is 42 feet high, 23 feet wide, and weighs almost four tonnes. It is not, however, inviolable! In its 56-year history, the goat has had a fairly traumatic existence. It's been burned to the ground 29 times, collapsed under its own weight twice, and – in two separate years – suffered the ignominy of being both 'kicked to pieces' and 'hit by a car'! In 1973, the goat disappeared altogether; it was later found in the yard of a local resident who rather fancied the outsize ovine for himself. What a way to get someone's goat!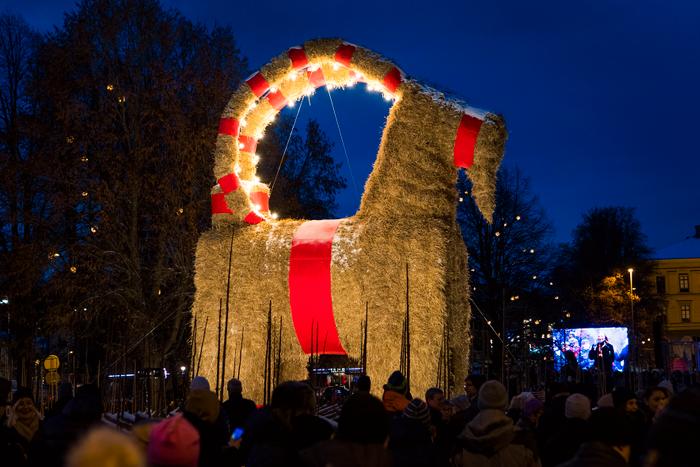 Advent around the world
In Scandinavia, Julebukking is a popular advent activity. Similar to the trick-or-treating of Hallowe'en, the tradition involves costumed carollers who go door to door, singing Christmas songs and taking one member of the household with them to their next stop.
In Austria, the devil-like Krampus joins in the advent festivities. On the night of December 5, Saint Nicholas and Krampus visit each household; the former rewards well-behaved children with oranges, walnuts and chocolate, while the latter punishes the badly-behaved with a sound beating!
In Iceland, the days of Advent include a visit from the 13 Yule Lads. These merry but mischievous mythical figures take turns visiting children on the 13 nights leading up to Christmas. Those who have been good find their shoes packed with treats come morning; those who haven't wake to footwear filled with rotting potatoes!
The biting cows of Christmas
Often mistaken for the last days of Advent, the song 12 Days of Christmas actually takes place from December 25 onwards – the 12 days that culminate in Epiphany. Thought to be French in origin, the song details the gifts a generous benefactor will bestow on his true love each day, starting with a partridge in a pear tree and culminating in 12 lords a leaping – the hook being that each subsequent day includes a new gift in addition to all the gifts of previous days!
According to The Oxford Dictionary of Nursery Rhymes, the gifts do have a significance (possibly attached to the 12 months of the year) but the true meaning of the song has been lost to the aeons. Nevertheless, the popular song appears in many cultures, in varying iterations: in the Faroe Islands, the gifts include one feather, three sides of meat, six oxen, and eleven goats; in France, the true love receives three wooden branches, five rabbits, seven windmills, and eight biting cows. Five gold rings is starting to look awfully tame, isn't it?!