A Larnaca-based company is producing plant-based meat replacements currently available at a handful of restaurants although the range is about to spread. Alix Norman gets a taste for something a little different, or not really that much so
Are you a reductionist? You may have heard the term in science, theory, or philosophy – but in 2022, reductionism relates to nutrition. It's about what you eat. And what you don't.
"Reductionism is the new buzzword in nutrition," explains George Vou who, along with Louisa Sophocleous, has co-founded The Mighty Kitchen – a food technology company in Larnaca that's offering plant-based meat alternatives. "It means substituting the odd meat-based meal for something more healthy; something more plant-based. So you're not giving up meat, you're just replacing a couple of meaty meals each week with a plant-based alternative. And it's about providing more options for people concerned with the planet, with animal welfare, and with their health."
Coming off two years of pandemic, who isn't concerned about health? Worldwide, we're seeing a huge movement towards better eating – both in terms of what we eat and when – and an increased awareness of what we put in our bodies. "But if you're not up for the challenge of a fully vegan or vegetarian diet," George acknowledges, "then reductionism may be the answer. And this is where The Mighty Kitchen comes in…"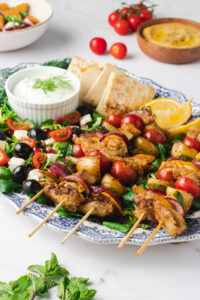 The first plant-based 'meat' producer in Cyprus, The Mighty Kitchen offers meat alternatives and ingredients that don't sacrifice taste or texture in the name of healthy eating. Instead, with their proprietary formulas (containing pea and wheat protein, and a unique blend of herbs and spices), they're providing all the flavour of meat in a healthy, plant-based product. And all the benefits to the planet of plant-based nutrition…
"36 per cent of all calories grown go towards feeding the animals we eat," explains George. "But only 12 per cent of those turn into consumable calories for humans. In other words, it takes a huge amount of calories to feed or fatten an animal for its meat. Even chicken, which is the most efficient meat, still comes at a cost of nine calories in to get one calorie out.
"But all that changes," he reveals, "when you eat plant-based foods: the ultimate in food production efficiency. With our products, you're getting a ratio of 100 per cent of calories in to calories out. And if you can enjoy the same, great-tasting food that starts at the same source – plants – but then skips the super inefficient part of the process, why wouldn't you?"
Over the last decade, healthy eating has become a priority for everyone from millennials concerned about their planet's resources to families who are more aware of what they're putting into their bodies (we've all seen the reports on the amount of chemicals in many of our local products!). And that makes reductionism a lifestyle choice that's gaining hugely in momentum.
"Rather than completely cut out meat, many people are choosing to substitute plant-based products for at least a couple of meals a week," George reveals. "Just a few years ago, that meant a wilting salad with half a grilled aubergine! But food technology has advanced to such an extent that the alternative meat market can now offer plant-based options that taste just like the real thing…"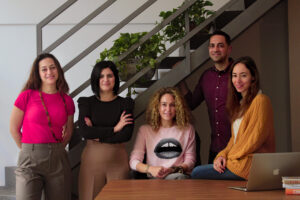 What started to become popular in 2018 with plant-based giant Impossible Foods (a California company that offers plant-based meat substitutes such as the well-known Impossible Burger) has since become a global movement. And, with funding from the European Union's Next Generation EU programme, The Mighty Kitchen is taking up the reins with its creation of a host of plant-based poultry substitutes: everything from chicken strips to nuggets, tenders, and fillets.
"We started with poultry because it's the most widely consumed meat in the world," explains George. "In our products, you get minimal salt and cholesterol, and zero saturated fats in a tasty, non-inflammatory meat alternative. It's a healthier option for you and for the planet. And, as a whole muscle meat, it has a lot versatility: you can eat it plain, toss it into a pie, add it to your noodles, or even pop it into a gyros!
"Yes, your gyros," he confirms. "Our team of food scientists has spent years developing and refining these products. And though the point has never been to trick the consumer, but rather to satisfy the taste and texture combination they're after, our testers are always pleasantly surprised to discover they're not eating real chicken! Even the most ardent carnivores – and we've met more than a few – have been shocked to find their gyros didn't actually contain any chicken!"
Already a hit with local foodies, The Mighty Kitchen's plant-based poultry alternatives are available as a long-awaited, tasty-but-healthy dining option at various restaurants, including The Blue Pine, Kitchen Room, and Bite the Crust in Larnaca, Elysian in Nicosia, and both Grab and Elysian in Limassol. Strips, nuggets, tenders, gyros, fillets, and meatballs (obviously sans meat) are also available from the website. In the coming weeks, the island's major supermarket chains and a dedicated Foody store will be rolling out the products. And future plans include other poultry substitutes such as duck and turkey, as well as several seafood substitutes including whitefish, scampi, and crab.
"Of course we don't expect everyone to stop eating meat!" George concludes. "That's never been our goal. But what we're hoping to do is offer a healthy, tasty, more conscious option for days when you would prefer a choice. And that's what reductionism is all about – consciously choosing to replace your standard meat-based intake with plant-based options. Today, with food technology now so advanced that it's hard to discern the difference between real meat and meat alternatives, it's simply the healthiest, tastiest option!"
For more information and purchase locations, visit https://themightykitchen.com/