Did you think the Middle East was all flat, hot desert? Then welcome to the Asir Province! Found in the very southwest of the Kingdom of Saudi Arabia and sharing a border with Yemen, it's one of the smaller of the nation's provinces (though still over eight times the size of Cyprus!). But what Asir lacks in area, it makes up for in height…
Here, on the Asiri plateau, lie the Sarawat Mountains, home to Saudi's loftiest peaks, where during rainy season the highest points are often shrouded with cloud. The entire region is a bit of a paradise: valleys lined with dense coniferous forests; peaks dotted with ancient fortresses; and fertile soils that are perfect for both the livestock and crops used in traditional Asiri cuisine…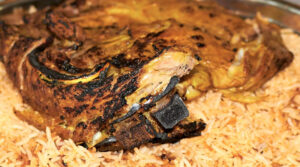 Hanith (or haneeth) is probably the best-known regional dish, a Yemeni-inspired concoction that involves a singular method of preparation. First, charcoal is placed at the bottom of a specially constructed pit. Spice-rubbed mutton is added on top, followed by a layer of marakh leaves (from a local broom bush), then more meat and a layer of fabric. Finally, the whole pit is sealed tightly, and the hanith is left to simmer for three hours before being garnished with local nuts and enjoyed with a side of rice.
Arika and asedah are less meaty fare, though still substantial enough to be popular in the cooler months. The former is a favourite at breakfast: pan-cooked flatbread discs mixed with Asir's famous local ghee or honey and a smattering of dates. The latter is similar in preparation and structure, though layered with meat or broth and preferred as a main meal.
For special occasions, we get altsabee: flame-cooked flour, milk or yogurt cooked with a lump of melting butter in the middle. And then there's shadkh rijla, similar to the ubiquitous molokhia of the Middle East, but made with locally-grown grain and leafy purslane. Often accompanied by rectangular leaves of mefa – the staple Asiri bread – it's a traditional high-nutrient stew that's great for keeping the body warm and healthy.