In a local currently presenting the songs of fellow Cypriot George Michael on the US stage, ALIX NORMAN meets a determined young women with a voice that sets her apart
Stephanie is singing to me from Minnesota. I've persuaded her to sing the first two lines of 'At Last'. And as her breathy, honeyed voice fills the room, sweeping across the miles from Middle America to the Mediterranean, it's as if Etta James were standing beside me. Goosebumps skitter across my skin.
Over the years, I've interviewed many aspiring young singers. Some have had moderate success; others have slipped quietly into oblivion. But I'd bet money that Stephanie Pourgouri is the one who'll make it. It's not just her voice; breath-taking though it is. And it's not her unshakeable self-belief – although, unlike many of her peers, Stephanie she's charmingly humble. It's her character – courtesy, charisma and determination in equal measure – which really set her apart.
This is not a young woman who has eased through life on family money or connections. Stephanie – or Stephània as she's known on stage – has worked extremely hard to become a headliner on The Life and Times of George Michael, a sold-out musical production that's currently touring the entire US. And it's clearly just the beginning for this 23-year-old from Ayia Napa.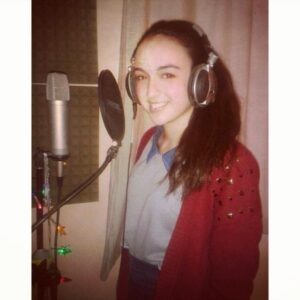 "There are so many people who dream of becoming professional singers," she says. "So having such an incredible opportunity, straight out of university, is amazing. I can't quite believe it! In fact, I still haven't actually graduated: I'm completing my final course online while on tour!"
Stephanie attends Berklee, one of the most prestigious music schools on the planet. Quincy Jones, Steven Tyler and Melissa Etheridge are all graduates, along with many of the world's top film scorers and music producers. But at a time when many of her fellow graduates are frantically searching for a full-time position, Stephanie has beaten out hundreds of others to become the sole female singer in the current nationwide production.
It's a success she's achieved despite her many detractors. While her parents were always supportive – "they paid for my piano lessons, vocal coaching and encouraged my dreams every step of the way" – others weren't always so positive.
"There were several teachers at my school who cackled when I told them I wanted to be a singer," she recalls, voice thick with sorrow. "One laughed in my face when I mentioned I wanted to be a professional singer. Another said 'If you make it to Berklee, I'll eat my hat.' I cried for days. But I was determined."
Born to an Irish mother and Cypriot father, the young singer grew up in Ayia Napa. Money was tight, so a string of waitressing jobs through high school helped build the funds needed for Berklee; once there, she worked two jobs to keep the place she'd secured with her rendition of 'At Last' – the song I've just persuaded her to sing down the line.
In Stephanie, others have clearly seen (and heard) the same thing I have: a talent and dedication outside the norm. Because while Stephanie was still in her final semester at Berklee, the producers of The Life and Times of George Michael flew her down to California to audition. She got the job over hundreds of other hopefuls from across the States.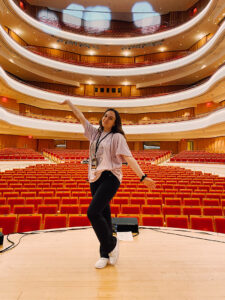 "It wasn't even my heritage," she laughs. "Until I showed up for the first day of rehearsals, the producers had no idea that I, like George Michael, I was half-Cypriot. They were shocked when I mentioned that we both had parents from the same small corner of the world!"
Stephanie has been on tour now for three months. And the show (a smash hit, to the extent that it's playing in Canada next, and likely to tour Australia and Europe next year) has already seen her performing to hundreds of thousands in countless locations.
"Today it's Minnesota," she says. "Yesterday, we were in Ohio. It's strange to fall asleep in one state and wake up in another; the scenery and the people are so different. In New York, everyone seems very liberal. In Pennsylvania, it was all flat fields and homesteads. Texas really is desert and cowboy hats and 'ma'am'. And my overriding impression of Florida was palm trees and swimsuits!"
California has been her favourite destination. "It reminds me of Cyprus: pretty, well-kept. We actually held our rehearsals in San Luis Obispo – a little town amidst the vineyards; just like home. I loved it. I just wish I'd been able to see more, but we were rehearsing 10 hours a day!"
Hours are similarly strict on the road, with just one day off a week. "Often, we arrive at a venue just a couple of hours before the performance. There's enough time for a sound check, hair and make-up and costume, and then you're on stage…"
Stephanie is the main female support for "the two George Michaels – one younger singer, who plays the star during his Wham days, and one older, who encapsulates the singer's transformation. Both narrate the story," she adds, "and I come on for duets, as singers such as Aretha Franklin and Mary J Blige with whom George Michael performed."
It's a substantial production: there's an entire band on stage, as well as various sound and lighting engineers, producers, and stage managers behind the scenes. And though Stephanie is "incredibly grateful, I just can't get over how fortunate I am!" to be part of the show, one can't help but feel it's just the beginning…
"The ultimate dream is to tour with my own show, my own songs," she acknowledges. "But that's a long way off. At the moment, I'm just thankful to have had so many amazing opportunities. I guess," she concludes, a note of steel under her honeyed tones, "it just goes to show what determination can do." Especially, I suggest as the interview draws to a close, in a talented young women from Ayia Napa. Stephanie laughs. "I do sometimes wonder," she asks, "which hat my teacher ate!"
For more information, visit www.stephaniamusic.com, the YouTube page Stephània or the Instagram account @stephania.music