Transport Minister Yiannis Karousos and Deputy Minister of Tourism Savvas Perdios on Tuesday stressed the importance of attracting high-quality tourists, who are more resilient to external shocks, as well as the need for tourists to experience an authentic Cypriot experience when they visit the island.
The two ministers spoke at a conference titled 'Tourism: The Day After', with the event being held by the Association of Cyprus Tourist Enterprises (Stek).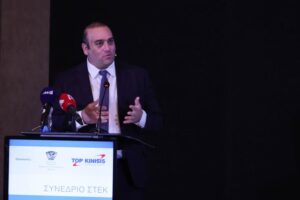 Karousos said that high-quality tourists can only arrive by offering them a more complete tourist experience, while adding that this also hinges on improving Cyprus' air connectivity.
"We need to create a tourist destination that allows visitors to have very unique experiences and memories, so that when they return home they take some of Cyprus with them, some of the tourist resort they visited, so that we have repeat visitors," Karousos said.
Karousos added that by readjusting the industry for quality tourism, there will be three key results, explaining that "the first is that we will create a destination that will be enjoyed by visitors, the second is that businesses will prosper, while the third is that local residents will be proud of their domestic resort".
Regarding Cyprus' air connectivity, Karousos said that, in collaboration with the Deputy Ministry of Tourism, Hermes Airports and other industry stakeholders, efforts are being made to improve this aspect, noting that the island increased its available destinations since 2019.
There were 158 available destinations in 2021, while the same figure stood at 150 during 2019, in what was a bumper year for tourism in Cyprus.
Regarding the French market, Karousos said Cyprus has gone from having no direct flights to having flights to most major airports, including Paris, Toulouse, Lyon and Strasbourg, while more airports are expected to be added in the future.
The Transport Minister also spoke on the Declaration on Air Connectivity, an initiative by Cyprus calling for an extension of support to air carriers on connectivity.
The initiative has received support from thirteen other Member States, including Greece, Bulgaria, Portugal, Slovakia and Malta, among others.
"We ask the European Commission to submit a specific plan for the support and recovery of aviation, but also to give us the tools to do so, because, at the moment, there are many issues regarding the support of air connectivity using state aid," Karousos said.
"One of the aims of the Declaration, apart from the tools and the pressure on the European Commission to support aviation, is to introduce a definition of what minimum air connectivity means," he added.
Meanwhile, Deputy Ministry of Tourism Savvas Perdios said that the tourism industry always has to face some crises of some sort, adding that the aim of the ministry is to "make tourism more resilient than before, so that these crises, that will continue to appear every year, can be better dealt with".
Regarding the ministry's initiatives over the past two years, Perdios explained that these new products aimed at instilling a new identity to Cyprus, while also improving quality.
Perdios said that several theme parks will be certified in order to facilitate their improvement, while special mention was also made to the island's bathing waters, which are regularly deemed to be the cleanest in Europe.
Additional initiatives mentioned by the minister include the creation of vegan-friendly hotels and restaurants, as well as the promotion of Cypriot winemaking, nature and villages.
"The way of promoting Cyprus abroad has now changed, we are not saying that we are a sun and sea island, we are saying that Cyprus is also an island rich in history, culture and experiences," Perdios said.
"Cyprus differs not in terms of being able to offer these experiences, but in the fact that one can find them by travelling very short distances," he added.