Professional and retired football players took part in the central Nicosia prison's charity event for inmates on Tuesday, alongside other volunteer organisations as part of the Goals in Life project.
Top footballing figures taking part included Constantinos Charalambides, Demetris Daskalakis, Michalis Morphis, Kostas Malekkos, Elias Charalambous, Giorgos Merkis and Neophytos Daskalakis in a match which ended 4-4.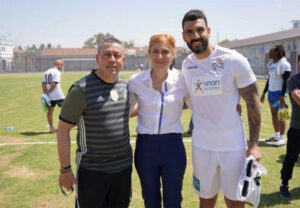 The prison's authority over the last eight years has been investing in inmates' education and other core components of their personal development, enhanced through sport and arts, a press release said.
As one of the authority's top priorities, the prison has invested in eight gyms kitted out with the latest equipment, ranging from volleyball courts, badminton, ping-pong, football and basketball.
Equipped with both indoor and outdoor facilities, inmates can also train calisthenics techniques, displaying the variety of skills and traits which can be worked on by the inmates.
The officials hope that the prisoners can learn to be a valuable member of a team, set goals and achieve targets.