This is the 'Keystone State', so-called for its role in the creation of a nation. Pennsylvania was one of the 13 founding states (the only that doesn't border the Atlantic). It's where the Declaration of Independence was signed. And it's the home of the Liberty Bell.
In real-life of 2020, Pennsylvania is more than just its main towns of Philadelphia, Pittsburgh, and Allentown. It's peopled by large numbers of Amish; oodles of rural communities (the Appalachian Mountains run through the centre of the state, while the Allegheny and Pocono Mountains span the northeast, and 60 per cent of the total area is covered in forest); and more than a few waterfront populations – Pennsylvania has more navigable rivers than any other state. And what's keeping the state's 13 million residents going is, for the most part, huge amounts of snacks!
Although Pennsylvania is known for its dairy, produce and livestock industries, it's nicknamed 'The Snack Capital of the World' for good reason! Martin's Potato Chips, Snyder's of Hanover, and Hershey's Chocolate World are all found here, and the state's most iconic treats include Tastykake (calorie-laden cupcakes, pies, and soft cookies), Peeps (sickly sweet candy that's most popular at Easter), and Utz crisps.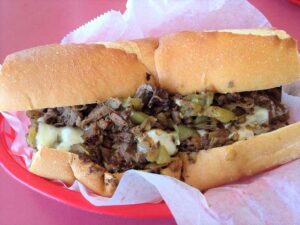 In terms of actual food, the state is famed for its pierogis (a Polish pastry that's a favourite between innings at Pirates' games in Pittsburgh's PNC Park); scrapple (fried squares of pork scraps covered in cornmeal); and the uniquely Pennsylvanian whoopie pie (two pieces of chocolate cake filled with cream). From the Pennsylvania Dutch, we get shoofly pie (a molasses-filled pie topped with crumbs) and Lebanon bologna (a popular deli meat). And then there's the undisputed state fare: the Philly Cheesesteak…
According to Philadelphia's official tourism site, this iconic concoction was invented by one Pat Olivieri in the 1930s. A hot dog vendor, Olivieri apparently decided that grilled beef would go perfectly in an Italian roll. So popular was his creation that, on the strength of this one snack, Olivieri was able to launch his own restaurant. It took another decade, though, before the melted cheese was added, marking the birth of the true Philly Cheesesteak – a snack that's so iconic, it even appears in Rocky!