The Noodle House has been going strong in Limassol for a few years being one of the earlier entrants in the city's old town regeneration.
Found in one of the area's most storied streets, Ayiou Andreou, once the exclusive domain of tourist shops, the restaurant is almost deceptively subtle and cosy-looking from the outside. Indeed, passersby will be surprised to see how roomy it is once they step foot inside the two-floor establishment.
Moreover, Limassol residents of a certain age, myself included, will appreciate the effort made to modernise the building's interior, considering the average age and condition of most buildings in the area, with many being designated as historically significant.
The main theme in terms of decor is wood, which dominates the interior styling. Indeed, it works quite well for the type of restaurant, particularly in terms of the long tables, allowing a number of dishes to be served.
We started the evening with a couple of drinks, including an exotic island smoothie, with pear, pineapple and mangos, which was refreshing and thick, with the mango flavour being especially prominent.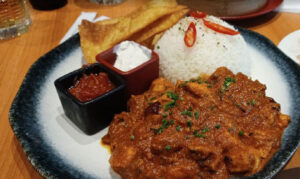 Considering the main dishes we ordered, more on that below, we only ordered one starter, the steamed pork buns, which I definitely recommend, for three key reasons. One, value for money, as each bun is surprisingly chunky and filling, two, the sweet and slightly earthy flavour of the pork chunks within them, and, crucially, the lovely dipping sauce they are accompanied with. The sauce was on the sweeter side, rather than the smoky offering of a barbecue sauce, and you could easily discern the use of berries, with some small pieces surviving the cooking process. Brushing a bit of the sauce on the doughy buns went a long way in elevating the flavours. We also tried a bit of the duck, sharing a small portion alongside our main dishes. It was well-cooked, with crispy, juicy skin on the side providing ample flavour. As you would expect, it came with thin pancakes to be wrapped in, alongside a few chopped vegetables.
Our two main dishes were kung pao chicken with egg noodles, as well as their butter chicken dish. The latter was especially good, served with rice, chopped chillies, and crispy crackers resembling fried tortilla bread, and it was somewhat spicier than similar dishes I have tasted elsewhere in Limassol. I must note that it had a deliciously fragrant aftertaste which I was not able to pin down, but it was somewhere between a particularly fresh and well-ripened tomato and a flower of some sorts. The king pao chicken dish was also very good, spicier than the butter chicken, with roast onions as garnish, stir fried cabbage and black bean sauce. Both dishes were extremely filling and the portions were generous. We took home four small boxes of leftovers.
Finally, we had been recommended to try their fried ice cream dessert, which is made of a ball of vanilla ice cream wrapped in kadaif, before being fried and served with crushed peanuts on top. It's a wonderful dessert indeed and a must-try for first-time visitors. All in all a positive experience and one we would be inclined to repeat in the future.
VITAL STATISTICS
SPECIALTY Asian food
WHERE The Noodle House, Ayiou Andreou street, Limassol,
WHEN weekdays and Saturdays: 11:30am-4pm, 6-11pm, Sundays: 11:30am-11pm
HOW MUCH €4.50 for a mocktail or smoothie, €7.50 for a starter, €13-16 for a main dish
CONTACT 25 820282