Yes, this is where the hamburger originated – or so it's claimed. In the 19th century, the sailors of this German seaport returned from their Baltic voyages having tried (and enjoyed!) raw shredded beef! The tartare wasn't, however, to everyone's taste; but when an enterprising local decided to cook the beef, a trend began…
Today – having first appeared at the St Louis Louisiana Purchase Exposition in 1904, where it saw the addition of the bun – the hamburger is one of America's favourite foods. But it's still named for the town where it's believed to have started, a city state that's renowned for far more than just its culinary creations, including its people.
Today the city's roughly 2 million residents include over 1,500 millionaires – making Hamburg Europe's richest city. And what they're all eating – rich and poor alike – is not the hamburger, but rather the Fischbrötchen!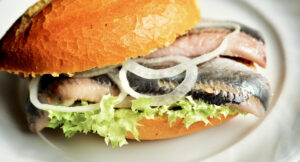 Made with pickled herring, onion and remoulade sauce all tossed into a bun, this sandwich is the city's most iconic dish. Served everywhere from restaurants to street stalls, it's a local favourite.
Almost as popular is Finkenwerder Scholle – another age-old fish dish, consisting of plaice that's baked or pan-fried with bacon, onions and shrimp. And, continuing the marine theme, we get Aalsuppe – a sweet-and-sour soup that was traditionally made from eel. Nowadays, it's more likely to be beef. But the name remains, and Aalsuppe is the main course on many a local menu.
Amongst the sweeter treats, you'll find Franzbrötchen (a type of pastry loaded with sugar and cinnamon, and decorated with anything from marzipan to chocolate pieces), and Rote Grütze (a yummy flummery, made with red berries and served alongside vanilla sauce or ice cream). And to round off your meal (assuming you've had your fill of excellent German beer), there's always an excellent cup of coffee…
Much of Hamburg's wealth was founded in the coffee trade; in the 19th century, the city was the largest java market in the world. Today, the trend continues, and Hamburg is renowned, not for its culinary namesake, but rather for its quality jo.