Exploration of a foreign culture can be trying at any age, but for the protagonist in a new book it is all consuming. Alix Norman meets the author behind it
So many of us were raised in an alien culture. Our families emigrated from Cyprus to the UK or Australia or America, and we went along – not always understanding what was happening, unprepared for a new way of life. Or perhaps we immigrated to Cyprus, moving from foreign parts to a little Mediterranean island where things were both familiar and yet so different. Or maybe we were born into a foreign culture, where parental expectations differed wildly from those of the society in which we were raised.
Often, we struggled. We struggled to fit in; to adjust to different faces and places and friends, or to hopes and dreams that didn't fall in line with family beliefs. This is the book that makes sense of our journey – whether as émigré or immigré of first, second or third-generation. The book that would have helped so many of us had it been published back then, but is now a wonderful aid to any child's exploration of a foreign culture. It's called Tomatoes In My Lunchbox. And it is, quite simply, divine.
Released by British publishing giant Macmillan, Tomatoes In My Lunchbox has been three years in the making. Or perhaps even longer, thanks to author Costantia Manoli's own childhood experiences. "It's a story about a young girl who moves country with her family," she explains, "layered with themes about the immigrant experience and the universal experience of feeling out of place. She has to navigate this new place, new environment, new school. On top of that, she finds her mum has put whole tomatoes in her lunchbox – just as she did in her home country.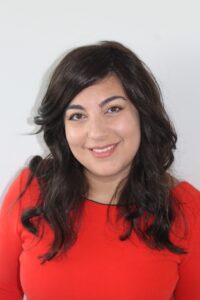 "At an age where you really don't want to be different, whole tomatoes for lunch can really make you stand out!" smiles Costantia. "Especially when they burst all over your new uniform! But that's exactly what happens to our young protagonist. And it's hardly the least of her worries…"
'I don't recognise my name at roll call the first time,' says the little girl. 'The teacher says it like it's too hard to understand. Then she says it again, one syllable at a time. It's strange and sharp and sound like something is breaking. When my mama says my name, it's soft like summer and round with love and colour and light. I want to be Olivia, Sophie or Chloe. Or Emma with yellow hair like the sun and the blue sky in her eyes. I want a name that stories are about.' And, most heart-breakingly, 'I want a name that fits in the front of my book.'
"Actually, neither name, age, nor country of origin is ever given," says Costantia. "We're not even sure if she's an émigré or refugee. This information is deliberately left open, as I wanted the story to have a universality to it; the feeling of being different is not specific to any one race, culture or situation – it's something we've all felt at some point in our lives."
'When we came here, we left the place where my name fit. We took what we could and closed in it our suitcases,' adds the girl. But 'Our things look weird here. My clothes are weird here. The whole tomato in my lunchbox is weird here.'
As our protagonist struggles to fit in, our hearts go out to her. And during childhood, when we feel so strongly but understand so little, that feeling is all the more pronounced.
"This book is for all those who have ever felt displaced or different for whatever reason and at whatever point in their lives. I hope it offers hope and perhaps a little nudge to reach out and connect with others in whatever small way you can," says Costantia. "While I wasn't first-generation immigrant or a refugee myself," she adds, "I was born in the UK to Cypriot parents, and spent my early years contending with a name that even I had difficulty pronouncing! So our main character's experience is directly related to my own.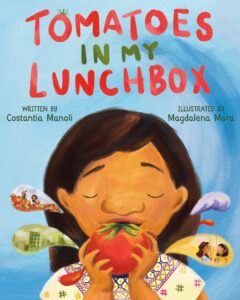 "But it's also the story of my mother's immigration, my daughters and their relationships, the new students in my classroom looking lost and afraid, and story after story of disconnection and displacement. The very stories that are playing out in the lives of so many children, and grown-ups, right now…"
Years spent adapting to different cultures – "Cyprus for middle school, then the USA, the UK, and back round all over again!" – coupled with a lengthy career as a high school teacher have given Costantia a unique understanding of what it feels like to be out of place. "Most of us assume that everyone else is a part of something and that we are the only ones feeling different, but really, everyone is dealing with their own version of feeling at odds with their environment. I know I always have!"
Today, Costantia lives in Lympia with her family and other animals – all of whom she cites as "an endless source of story ideas, new characters and constant interruptions. This may be my debut book, however writing has always been a part of my life. It is a process that is generally quite solitary and a way to make sense of the world. As writers we try to create mirrors for people to see themselves in and windows for others to look in through. Sometimes, our work will resonate and some magic thing happens that enables our work to reach out and connect with people. Honestly, it's a real honour to be able to put work like this out there. I'm thrilled and very humbled by the whole thing."
By the end of the simple story, our protagonist has found her place. She's shared her tomatoes, lost her fear and found friends. 'Chloe tells us a story, and my name is in it,' she says. 'My friends say it again in turns. It is familiar and gentle and beautiful. It is all in one piece. And it sounds like home.'
Tomatoes In My Lunchbox will be released on June 21. Available online and at all good bookstores on the island, at a cost of approximately €18.39