By Katie Wright
After winning The X-Factor: Celebrity at the end of 2019 and landing a deal with Simon Cowell's record label, Megan McKenna was on the brink of taking her singing career to the next level. But then the pandemic hit.
Was the reality TV star – who found fame on shows like Ex On The Beach, Celebrity Big Brother and The Only Way Is Essex – gutted she had to put her music plans on hold?
"Everything happens in a weird way," she says. "I've had time to do my writing and get all my material ready. It has held things back, but that's fine – it held the whole world back, not just me."
In fact, McKenna, who went to a performing arts school and released her debut album Story Of Me in 2018, relished the chance to slow down for once.
Passionate about cooking, the 29-year-old got busy in the kitchen. She shared cooking videos with her 2.4m Instagram followers, and found her gluten-free recipes struck a chord.
Diagnosed with coeliac disease and a wheat allergy in her teens, McKenna knows the stigma that can come with a gluten-free diet.
But "you don't have to eat a salad, you don't have to eat boring [things]. You can eat pastries, you can eat cake."
That book is Can You Make That Gluten-Free? – and the title is inspired by the culinary question McKenna gets asked the most.
In it, she shares the recipes she swears by, such as the fluffy, American-style pancakes that are her weekday breakfast go-to, the Sunday staple of beef and crispy roasties, and a host of colourful cakes and puds.
Pancakes with Crispy Bacon and Maple Syrup
Makes 12
450g gluten-free self-raising flour
2 eggs
300ml semi-skimmed milk
Olive oil, for frying
For the bacon:
1tbsp olive oil
1 x 200g pack streaky bacon
Maple syrup for drizzling
Strawberries, for garnish (optional)
Put your flour, eggs and milk into a large bowl and whisk until smooth.
Place one tablespoon of olive oil in a large non-stick pan over a low heat. When hot, add one heaped tablespoon of your pancake batter and swirl it into a small circle about five millimetres thick. Depending on the size of the pan, add another one or two spoonfuls in the same way. The circles look thin, but they will rise, don't you worry!
Turn the heat up to medium and cook for about one minute on each side, until fluffed up and lightly speckled brown. You'll know when they're ready.
Transfer the pancakes to a plate and keep warm while you make as many more pancakes as you can with the remaining batter. Remember to heat a spoonful of oil for each batch.
For the bacon, heat your olive oil in a frying pan over a medium heat. When hot, add your bacon and cook for six to seven minutes, turning as needed.
Once golden and crisp, drain on kitchen paper, then serve on top of your fluffy pancakes with a drizzle of maple syrup. If you want to be extra fancy, cut up some strawberries and add them too.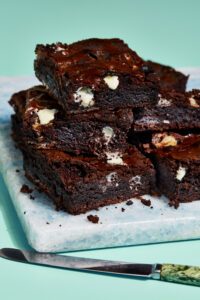 Chocolate brownies
Makes 12
170g unsalted butter, at room temperature
200g caster sugar
90g brown sugar
3 large eggs
1tsp vanilla extract
3tbsp chocolate and hazelnut spread
70g gluten-free self-raising flour
40g cocoa powder
100g white chocolate, broken into small pieces
Preheat your oven to 200C. Line the bottom and sides of a deep 30 x 20 centimetre baking tray with non-stick baking paper.
Place your butter in a large bowl, add your two sugars and whisk together until smooth and creamy.
Add your eggs one at a time, beating well between each addition. Now whisk in your vanilla extract and chocolate spread.
Sift in your flour and cocoa powder, then fold in with a spoon until completely combined.
Finally, fold in your white chocolate pieces.
Pour your brownie mixture into the prepared tray and smooth the surface.
Bake for 50 minutes, reducing the heat to 180C after 20 minutes.
Set aside to cool before cutting into pieces and serving.
Can You Make That Gluten-Free? by Megan McKenna is available now