Home to 15.4 million people, Lagos is by far the most populous city in Africa. To put this into perspective, Cyprus' most populous city is Nicosia, with roughly 200,000 residents; you'd have to go back almost 80 years to find a similar population in Lagos. And the boom continues: today, despite its population, this mega metropolis is still the eighth fastest-growing African city.
Of course, the average Lagosian isn't particularly wealthy – the entire country is renowned for its gap between rich and poor. So while the rich live in the lap of luxury and dine on delicacies, your average man on the streets of Lagos enjoys a very different existence – and cuisine…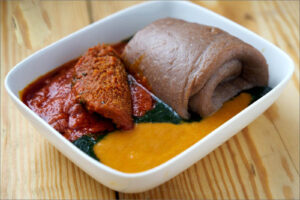 Lagos is largely inhabited by the Yoruba and Igbo, and these tribes' two cuisines provide us with the city's traditional dishes. Among the former's favourites are any number of soups, known locally as ọbẹ, and often served alongside pounded yam. There's gbegiri (black-eyed beans, onion and a little meat); ogbono (made from the seeds of the ogbono plant, along with veggies such as bitterleaf, celosia, tomatoes and okra); and ewédú, or slimy Yoruba soup, which is made from jute mallow, locust beans and potash.
The Igbo generally serve soup with akpu – a paste of fermented cassava dough, similar to the West African fufu. There's ofe onugbu, which can include anything from crayfish to a whole cow's head alongside the main ingredient of bitterleaf. And okra soup, extremely cheap and easy to make, unless you fancy a little fish thrown in. But you also get more solid offerings, such as agidi (boiled, mashed corn) with beans, and nkwobi, a more complex dish that involves potash, onion, and a cow's foot or two!
Across Lagos, you'll also find every variation of rice (including ofada, or unpolished rice), as well as any number of porridges made with beans and yams. To drink, it's probably zobo tea (a traditional beverage made from dried hibiscus), palm wine, or the ubiquitous beer – the city's favourite drink.