A local creative is making candles that bring ancient history into the modern home. ALIX NORMAN finds out more
Vasiliki Riala is a contemporary artisan practising an age-old profession: the making of tamata. A form of offering used for millennia in this part of the world, the tama now usually comes in the form of a small metal plaque, embossed with an image symbolising the subject of the pilgrim's prayer. But long ago, these votives were made from stone. And then, in time, from wax…
This is where Vasiliki comes in. With her newly-launched Xroniko concept store in the heart of Old Nicosia, the young artist is bringing the past into the present: creating modern-day wax candle tamata that draw on the rich heritage of the island.
"Tamata is a tradition that derives from ancient communities, who would offer the gods a gift in return for a favour," explains Vasiliki. "These objects had a strong symbolic meaning, and were the vessels of a primitive human urge to offer up something to the saints or the deities. The offerings were often in the shape of a body part or an animal: break your wrist, and offer up a carved hand; if your mule was ill, you'd present a votive in the form of a pack animal, perhaps."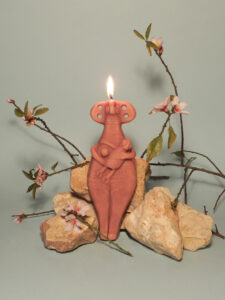 The earliest versions were stone, and the more modern iterations are made of metal. But wax is Vasiliki's chosen medium, for the simple reason that candles are ephemeral. "Wax is a material that has had countless uses in Cyprus through the ages," says Vasiliki. "But it's as transient as time itself: liquid with heat, solid with cold, and disappearing when lit. Light a candle, and you're watching something vanish… Perhaps it goes to the gods!"
Vasiliki's hand-made candles are, for the most part, cast in the form of archaeological icons. There's the instantly recognisable Rider on a Horse, as well as the Zoomorphic Deer, both from the Archaic Period of 650 to 480BC. There's the Idol from Pomos, the Stavroschimo, which is so well known it crops up anywhere Cyprus' past is bring celebrated! But there are also a few more contemporary forms…
"There's the outline of the island of Cyprus, for example, and another candle that's shaped like a light switch," says Vasiliki. "And this last asks the viewer to question how light was facilitated before electricity; what life might have been like for those who lived centuries ago! All pay homage to the creation process," she adds, "during which I consciously try to experience what our ancestors might have felt: the way Cyprus was at that time, and how our forebears perceived the world…"
Vasiliki has a long-held fascination for Cypriot history. "As a child I wanted to study archaeology; my parents were captivated by our island's rich past, and would often take me to visit archaeological sites and museums. Later, I became mesmerised by the ability of humans to perceive time, and the way in which an ancient object told a story of its own – a tale of the people of the past."
Ultimately, Vasiliki went on to study art, completing her Bachelors in Fine Arts in the Netherlands before returning to Cyprus in 2018. "I realised I had a need to create in my homeland," she acknowledges. "I felt ready to experience and understand the art scene in Cyprus. And, while working as an Invigilator at the State Gallery of Contemporary Art, I decided to set up my own concept shop: Xroniko."
Named for 'διαχρονικό' – "which translates as 'intertemporal' and encompasses both the idea of division and chronicle," says Vasiliki – the concept shop opened at the end of May, 2022. But it's merely a physical location for art that the creatrice has been selling for well over a year now.
"Last April I started sharing my creations, collaborating with stores such as ARCHIVE art space, and a number of festivals and bazaars. A few are even available at the gift shops of the Cyprus Museum, as well as at Kourion archaeological site and the site of the Paphos mosaics. So it was a natural progression to find a space of my own to exhibit these creations and explore their possibilities," she adds.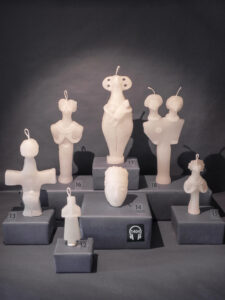 Vasiliki sees these wax tamata – all made from natural beeswax, in colours that reflect the hues of island landscapes – as a vehicle to both experiencing our past and understanding our present. "As a person of my generation, I can only experience what went before through my contemporary point of view. Therefore I try to mix the ancient with the modern, creating candles that bring ancient history into the modern home. I envisage them as sort of upscale souvenirs," she suggests. "The sort of item both locals and tourists might buy to bridge past and present, home and abroad."
As well as the candles, Xroniko also sells postcards with photographs or collages, various tote bags, purses and hair scrunchies. But it's the tamata that really set the shop apart, providing an unusual and thoughtful reminder of local heritage. And, while most of Xroniko's customers suggest they prefer that their tamata remain unlit, a reminder of the rich treasures the island has to offer, a few admit to using them in their personal rituals – in prayer or supplication, for instance. "Either way, it's a piece of history that's living on," Vasiliki smiles. "And for me, that's the whole point of what I do…
"Art, in its essence, is a way to communicate and express our human nature and the way in which we perceive the world. Without it, we would know very little of our ancestors, of their loves and lives, their hopes and dreams. And perhaps, without art, we wouldn't be able to imagine the future. In taking ancient art and transforming it into ephemeral contemporary pieces, we're connecting with those who have gone before. And ultimately, we're transcending time."
Xroniko Concept Store can be found at Aiskilou 77, in Old Nicosia. For opening hours, call 97 792733. For more information, visit the Instagram account @xroniko_concept_store