By Paul Lambis
Meeting a legend is not something that happens every day, so when the opportunity arises, you seize it. For over three decades, world-renowned chef Nobuyuki 'Nobu' Matsuhisa has built a global culinary empire, blending traditional Japanese dishes with Peruvian ingredients, and creating flavoursome works of art with meticulous attention to detail.
With restaurants on five continents, it was only a matter of time before the acclaimed chef agreed to set new standards in Cyprus' culinary life, introducing Matsuhisa Limassol in the Amara.
Despite how simple the ingredients may seem, the art of making sushi is rather intricate, as I learned at a sushi making lesson with Chef Nobu. Using a set of six hand motions, almost like a well-choreographed dance, he and his highly spirited team moulded various ingredients into sculptural works of art.
According to Nobu, cooking is about following your heart. "It is the ultimate gift when you see your customers smile, knowing that you have succeeded in providing a memorable dining experience."
After sipping a decadent cocktail at the bar, an exotic mix of fresh cucumber juice, gin and elderflower, I staked out a spot at the sushi bar with an excellent vantage point for the kitchen so I could observe the chef in action; delicately slicing a yellowtail fish into paper-thin portions, combining a perfect fusion of yuzu juice, soy sauce, finely grated garlic, cilantro leaves, and medium-sized jalapeño peppers into a dish that could only be described as "fit for the gods."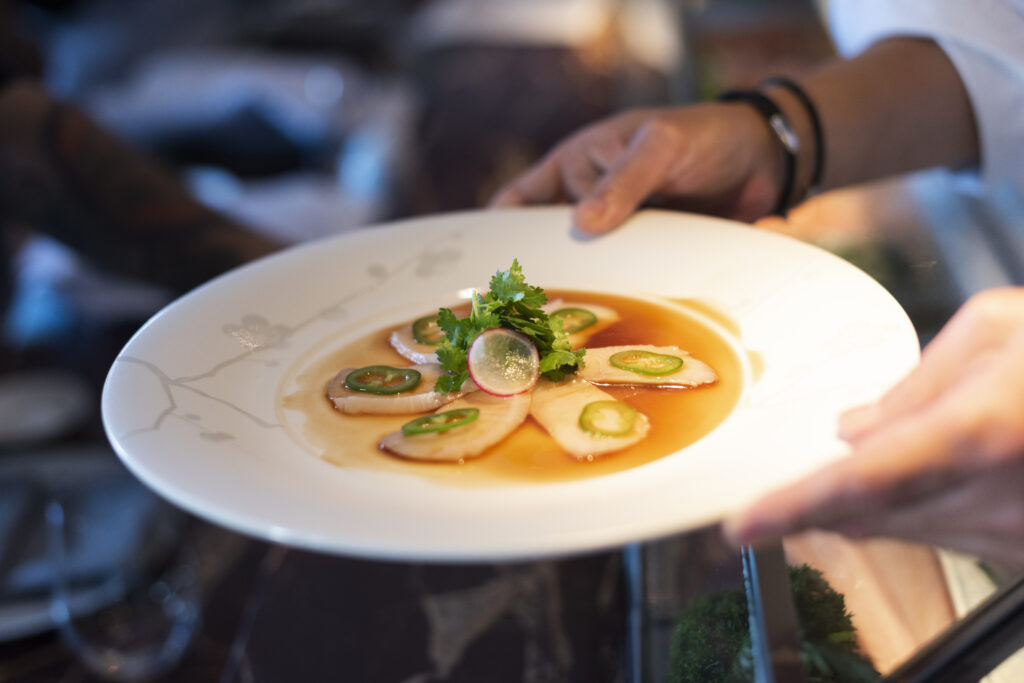 Before he became a celebrity in his own right with an eponymous restaurant chain, Nobu endured hardship and struggles. Having lost his father at an early age, he moved to Tokyo to work as an apprentice chef at a family-run sushi bar. "I wanted to be a sushi chef ever since my brother took me to a sushi restaurant as a child," Matsuhisa told Living. "After seven years, I decided to travel the world and accepted a job offer in Peru, where I was able to create my distinctive style by fusing Japanese cooking methods with native Peruvian ingredients."
In 1977, Nobu opened his first Japanese restaurant in Anchorage, Alaska. Only 50 days later his restaurant burned down due to an electrical fire. After falling into a depression he somehow pulled himself out of it and accepted a job in Los Angeles "and put all of my effort into honing my profession."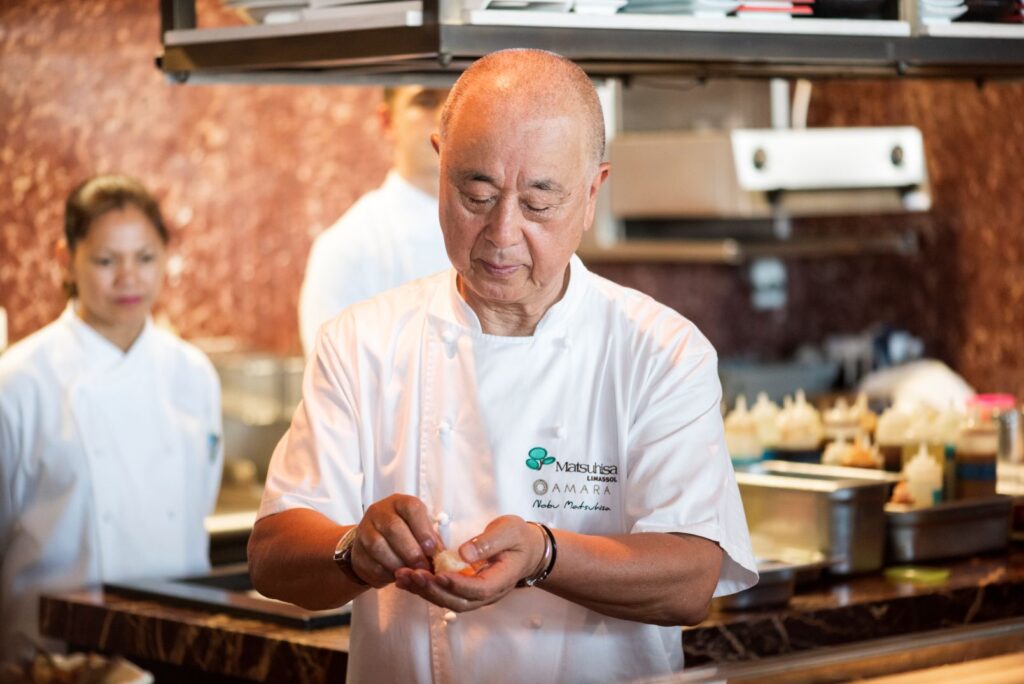 Almost a decade after this setback, Nobu was ready to try again. He opened Matsuhisa in Beverly Hills, showcasing his fusion style to Hollywood's elite, including the likes of Robert De Niro who suggested opening an outpost in New York. "I was reluctant at first, but after years of persuasion from De Niro, I opened my second branch in New York."
While the menus at both restaurants were largely similar, Nobu could seat more diners in an elegant atmosphere, which helped to challenge public perceptions of what a sushi bar could be.
"Teaming up with Amara Hotel has been a wonderful opportunity to introduce an enormous menu packed with peerless dishes, in an environment that is intimate and elegant," Nobu said.
Back in the kitchen, Nobu's razor-sharp knife can be heard cutting through salmon as thin slices are arranged perfectly on a large plate and topped with sesame seeds, chives, ginger spears and grated garlic. The dish is then drizzled with yuzu-soy sauce, combined with olive and sesame oil, to give the Salmon New Style Sashimi a deep, heavenly flavour.
Although the baby spinach salad, combined with yuba, dry miso, yuzu juice, truffle oil and topped with a generous helping of Parmigiano Reggiano brought another smile to my face, it was the endless variations of sushi at the workshop that took centre stage.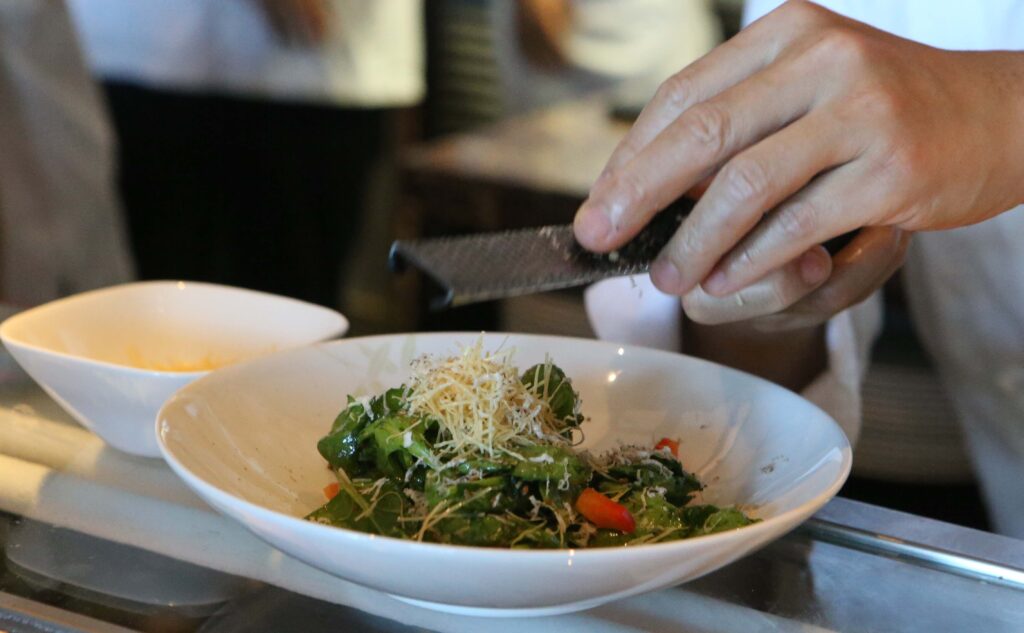 The extensive and original menu at Matsuhisa Limassol offers a bespoke array of Nobu's legendary signature dishes ranging from appetisers, special sashimi, fresh salads, mouth-watering hot dishes, soups, various sushi, sushi rolls, and ceviche, to grilled and wood oven-roasted dishes, kushiyaki, inviting tempura dishes, including his celebrated signature dish Black Cod miso.
"My team was also motivated to create dishes employing local Cypriot ingredients that would harmoniously complement the culinary experience at Matsuhisa Limassol."
Matsuhisa certainly means dining at its finest. Distinctive signature dishes, exotic cocktails, five-star service and an unrivalled setting make this restaurant in Limassol an emblem of reimagined Japanese gastronomy,
VITAL STATISTICS
SPECIALTY Japanese Peruvian Fusion A la Carte
WHERE Matsuhisa, Amara, Amathus Avenue, Ayios Tychonas, Limassol
WHEN Daily 7pm to 1am
CONTACT 25 442222