Washed by the waters of the Indian Ocean, ringed by white sand beaches, and dotted with tropical forest, Mahé is a little nirvana. As part of the Seychelles, Mahé belongs to a nation that's one of only two African countries classified as a high-income economy by the World Bank.
Hit hard by the pandemic, it's not only the recent lack of visitors that's shaken this little paradise. Out in the middle of the ocean, Mahé is extremely susceptible to tropical cyclones, floods, and tsunamis. And, most importantly, to climate change…
Already, the island is frantically fighting coastal erosion and rising sea levels – over half of Victoria is built on reclaimed land. But with this human intervention comes a host of other issues: dredging and run-off from construction have been wreaking havoc on local marine habitats. Which might be a bit of a problem, given that much of Mahé's fare is fairly fishy…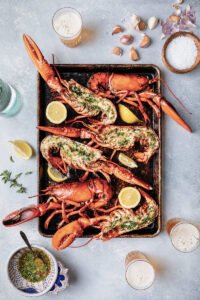 Traditional Mahé cuisine relies heavily on seafood: tek-tek seashells and crab, alongside kilo zourit (a spicy octopus curry) and baked mahi mahi. Tuna is also ever-popular – the tuna fishing and canning industry is the nation's second largest after tourism, and many a local family rely on this fish for much of their protein intake. Fried shark is another favourite, as are baked lobster and grilled snapper (both so plentiful that they're a fraction of the price you'd expect elsewhere). And swordfish marinated in lime and cooked in banana leaves is a local speciality.
Meatier meals include flying fox stew, and chicken stewed in coconut milk. And everything is accompanied by rice (usually highly spiced, as is much of the cuisine) or giramon – a type of squash that's often served alongside more substantial dishes.
For dessert, it's usually fruit; preferably bananas, which grow all over the island and are served fresh, dried or baked. And for traditional drinks, try lemon balm infusion, calou (an alcoholic drink made from coconut water), or bacca – a potent sugarcane liquor.