We need better infrastructure, safer vehicles and education
By Anastasia Korae
A few weeks ago, the Cyprus parliament passed an amendment to the Bicycles Law making helmet wearing mandatory for cyclists moving on roads, cycle paths, cycle corridors and cycle lanes, as well as for any passenger carried in a special bicycle seat.
The new law also authorises the Registrar of Motor Vehicles to approve or reject helmet types. It will come into force οn January 28, 2023, six months after its publication, to allow time for preparation. Offenders will be subject to a fine of €50 in accordance with the Fixed Penalties Law.
The MP who proposed the said amendment, Chrysis Pantelides, alleged that there is an increase in road accidents involving cyclists, and that the use of protective helmets could potentially save them from serious injury and/or death. I have no doubt that Pantelides had good intentions, thinking that he would be improving cycling safety. But I'm curious to look at the statistics he used, which were also not questioned by the majority of the MPs who voted in favour of this law. Did the data include detailed information about the circumstances of the accidents? Did it include information about driver/rider behaviour, lighting, speed, terrain, and is there, indeed, compelling evidence that helmets can prevent serious injury and/or death?
The reason I am saying this is that international literature suggests otherwise. According to the European Cyclists' Federation, serious head injuries are rare among cyclists and "the evidence in favour of helmet wearing and helmet laws is weak".
Figures taken from UK Department for Transport reports show that cyclists have a similar level of fatality risk per distance travelled as pedestrians – if cyclists should wear helmets, then so should pedestrians. Research also shows that helmets do help, but only to a point. If a person cycling hits a pothole, a helmet would act as a significant injury preventer, cushioning the impact of their head against the asphalt. But if a person cycling is run over by a heavy-duty truck, they and their helmet would be crushed.
In fact, Giro, one of the largest helmet manufacturers in the USA, stresses that the company does not design its helmets to protect from cars. According to Eric Richter, senior brand development manager at Giro, "there are many misconceptions about helmets, unfortunately. We do not design helmets specifically to reduce chances or severity of injury when impacts involve a car. The number of variables is too great to calculate […] and there is no way to accurately predict what is going to happen or the forces involved." Based on Giro's statements, I cannot but wonder what criteria will be used by the Registrar of Motor Vehicles to approve or reject helmets.
There is, however, a solution that does save cyclists from serious injury and/or death: preventing an accident from happening in the first place. But how can we prevent it? With cycling infrastructure and the so-called "safety in numbers" phenomenon. Evidence from around the word shows that an increased number of people cycling was observed after cycling infrastructure was built. More people cycling also makes roads much safer and this is due to factors including but not limited to:
greater expectation amongst motorists that bicycle riders will be present;
greater awareness of bicycle riders who are present;
more motorists knowing what it is like to be on a bicycle and behaving more safely around them; and
motorists' attitudes improving towards people who ride bicycles.
Moreover, in many countries, an unintended consequence of the mandatory helmet law was a decline in cycling numbers. This was observed in Australia which introduced the law in 1991. The legislation increased helmet use – from about 30 to 80 per cent – but was coupled with a 30 to 40 per cent decline in the number of people cycling; this has never recovered. A household survey conducted for the Sustainable Urban Mobility Plan (SUMP) Limassol in 2018 revealed a share of just 0.4 per cent of trips by bicycle. Can we really afford to make that tiny share even tinier? Is this in line with the 17 measures to promote cycling announced last year by the transport minister?
Nextbike, a bike sharing company with presence in 28 countries, is also expecting a knock-on effect in Cyprus, as per the recorded trend that was observed in countries that imposed helmet wearing. Unless there is, at least, a relaxation to accommodate such rental schemes, a rising number of professionals, students and tourists that have been choosing bike rental as a form of local public transport and entertainment will, unfortunately, be forced to change habits. Speaking of tourists, we are very likely to witness selective enforcement, with the police rarely imposing fines on them. On the other hand, we can reasonably predict that people of colour or people struggling to make ends meet will not have the same luck.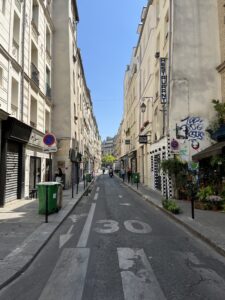 For more reasons than ever before, including air quality, record-high petrol prices, emissions targets, human hours lost while waiting in traffic, Cyprus should be taking well-calculated actions to promote micromobility by creating new infrastructure, enforcing bicycle-friendly policies and encouraging people to choose bicycles, e-bikes and e-scooters, all within the context of Sustainable Urban Mobility Plans. But it seems to be doing the exact opposite: imposing helmet wearing for cyclists, announcing the construction of new roads and roundabouts to attract even more private cars in city centres, and making it almost impossible to use an e-scooter as a mode of transport. Subsidies for new bicycles are simply insufficient if we are not also focusing on reducing our dependence on private cars and increasing safety using tried-and-tested methods.
I am a keen cyclist and I have been cycling regularly in Cyprus for the past 15 years across a range of terrains: mountain, road and urban. For the past two years, I have also been volunteering at a cycling school for children aged 5-10. The class does not start unless every single child (and coach) is wearing a helmet. I applaud organised cycling clubs that require that all cyclists wear a helmet during their rides. I myself wear a helmet every time I ride my bicycle in Cyprus or abroad but, considering the scientific evidence and all the examples from so many countries, I cannot defend an island-wide policy because it undermines the huge health, environmental, and social benefits of cycling. In reality, numbers show that the health benefits of riding a bicycle outweigh the risks of injury by a ratio ranging from 20:1 to 77:1, and this is a huge cost/benefit score.
In conclusion, this law was but a small example of how our parliament legislates by looking at poor or no evidence. A seemingly reasonable argument was all that was needed, and the relevant bill was passed without proper consultation and hardly any time for debate, giving most MPs no chance to shape an informed opinion.
Once again though, we need to repeat that we really don't need to reinvent the wheel – or the tahini pie as we say in Cypriot Greek. We can learn from mistakes made elsewhere and we can seek inspiration from the so many successful practices implemented abroad. As for me, I will continue wearing my helmet, but I will also advocate for measures that are proven to protect the most vulnerable users of our roads: better infrastructure, safer vehicles and education.
Anastasia Korae is the president of Friends of the Earth Cyprus and a UCI (Union Cycliste Internationale) Level 1 Coach