Visitors to Cyprus would find it hard not to have noticed herds of goats chewing away on a dark, boomerang-shaped carob, or not sampled the dark velvety syrup, drizzled on to some traditional yoghurt, which is made from the fruit of the carob trees dotted across the island – which have seen a surge in popularity not just at home, but also abroad.
The value of carob exports increased by 27.3 per cent in 2021 from 2017, according to data from the Statistical Service, while in recent years the countries to which exports of the Cypriot product have increased include Bulgaria, Jordan, Lebanon and Morocco.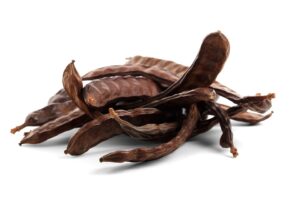 The main feeder market for the Cypriot carob, is Egypt followed by Israel, and according to one local producer who is appealing for government incentives, the island's humble carob is the best quality.
For his part, the mayor of Peyia Marinos Lambrou says the tree is part of Cyprus' living heritage.
Speaking to the CNA, the director of the Paphos Chamber of Commerce Marinos Stylianou said that based on data from the Statistical Service from 2017 to 2021, 13.9 million kilos of carob were exported abroad with a value of €7.8mn.
According to Stylianou, the exports in 2021 of carobs amount to a total of 3,268,475 kg and the value of exports amounts to €1,796,726.
For his part, Nikolas Harpidis, 38, one of the most well-known carob producers in the Paphos district, said that the Cypriot carob ranks number one in quality, noting that the local variety is sold at a higher price than its foreign counterparts.
Harpidis, who has been involved in carob production for several years now, an interest handed down from his grandfather and later by his father, processes carobs for food, juices and animal feed.
In the district of Paphos, carob trees are part of the local fabric and are most commonly seen in Peyia, Tala, Akoursos, Koili, Mesogi, Tremithousa, Kouklia, Peristerona, Akourdalia and Goudi, as well as other communities.
Harpidis is now appealing to the government to offer better incentives in terms of subsidies for the amount of hectares and fruit cultivated due to the uniqueness of the crop's geographic existence, in the Mediterranean. In the past, Cyprus was third in production worldwide while now it has fallen, he added.
Lambrou also referred to the precious character of Peyia's carob trees.
"The carob tree is one of the characteristic trees of our country. This precious gift of nature is not only for Cypriots as a basic nutritional source, but a living heritage that is associated with every aspect of our lives, our everyday life and our habits," he said.