The Rialto Theatre is busy hosting annual festivals at its venue this month but in between performances of Kypria International Festival and Sardam Interdisciplinary Literature Festival are a couple of other independent events worth checking out.
On Wednesday, Vivliotropio Book Club will host an event with the renowned Greek novelist Zyranna Zateli, who has created a unique, timeless and uncategorized genre. "Zateli," say the organisers, "has constructed a literary universe of her own, a dreamful world like 'a dream within a dream', as EA Poe said, dragging the reader into its whirlpool, leaving a nostalgic sense with a purple-like shade and a tobacco flavour that seems drawn from another era. From Rialto's stage, Zyranna Zatelli will introduce the audience to these labyrinthine magical places of her very own world,'visible as if invisible'."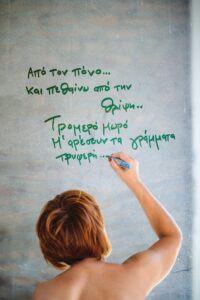 On Saturday, the Quintus Ensemble will revive the music of Vasilis Tsitsanis through a selection of alternative arrangements of the acclaimed Greek songwriter's compositional work. The five-piece band (Savvas Christodoulou, Natalie Neofytou, Yiorgos Georgiou, Evangelos Christodoulou and Annita Skoutella) became well-known for innovatively arranging popular compositions, aiming at introducing their unique musical tones and features to a wider audience.
Dance is next on the agenda as Rialto welcomes Alexandra Waierstall to the stage on September 21. In her new work in progress A Line, a Gaze, a Horizon, Waierstall investigates in form and content the recent experience of creating dance in pandemic times. However, she extends her discourse to questions concerning art itself to the dialogue that is created between living and mediated art, the art that reaches the viewer through the mediation of a screen. The performance will include dance and video by artists Rania Glymitsa, Arianna Marcoulides, Savvas Baltzis and Ying Yun Chen and music by Hauschka.
Wrapping up the month on September 30 is Chorotheatro Omada Pende which will present Roula Kleovoulou's new work titled Dear You. The performance is an insight into how people conceive and experience love with the absence of the body, from the love letters of the 17th century up to the love messages on social media apps of 2022.
 Vivliotropio Book Club
Literary event with Greek novelist Zyranna Zateli. September 14. Rialto Theatre, Limassol. 8.30pm. €5. In Greek. www.rialto.com.cy
Quintus Ensemble
Band revives the music of Vasilis Tsitsanis. September 17. Rialto Theatre, Limassol. 8.30pm. €12. www.rialto.com.cy
A Line, a Gaze, a Horizon
By Alexandra Waierstall. September 21. Rialto Theatre, Limassol. 8.30pm. €12. www.rialto.com.cy
Dear You
By Chorotheatro Omada Pende. September 30. Rialto Theatre, Limassol. 8.30pm. €10. www.rialto.com.cy