Wisconsin is known as 'America's Dairyland'. It's here, in 1881, that the world's first ice cream sundae was served, and, if the state were a country, it would rank fourth in the world in terms of total cheese production!
Most of its roughly six million residents can trace their ancestry back to Poland, Germany and Scandinavia, and it's these Europeans who launched the local dairy industry. They brought with them a knowledge of dairy farming; add to that the invention of the refrigerated rail car, and suddenly cattle were the new big thing…
Estimates suggest there are 3.5 million cattle in Wisconsin, more than the number of children! And over a quarter of all American cheese is produced in the state, so it's no surprise that the food is pretty cheesy…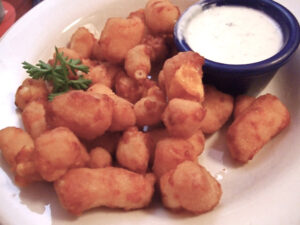 Topping the menu is cheese curds. A form of un-aged cheddar, curds are a by-product of the cheese-making process. And in Wisconsin these leftovers are fried into various dishes: squeaky and salty, rubbery and moist, or gooey and warm with a crisp breading. But they're all fresh (curds must be eaten within 12 hours of pressing) and all delicious.
Beer cheese soup is another Wisconsin oddity. The name is self-explanatory: melt a rich, tangy cheese, add a fair measure of home-brewed beer, and heat the whole lot in a pan. Enjoyed with fresh bread and bacon bits, it's the perfect dish to heat the heart during those long, cold Wisconsin nights.
Winters here are harsh in the extreme. In the north of this Great Lake state, the mercury can drop to -40C in January, so heart-warming foods such as the butter burger (in which every ingredient, from meat to cheese to onions and bun, is liberally soaked in butter before cooking!) and the kringle (a flat, flaky pastry filled with rich cream cheese and topped with fruit and nuts that arrived with 19th-century Danish immigrants) top the menu. But, even during the coldest months, you'll still find frozen curds: ice cream to which eggs, cream and sugar have been added for an instant energy boost! With all this fat on the menu, it's no surprise that Barbie, who was born in the fictional Wisconsin town of Willows, quickly upped sticks for Malibu!