Combining her love of books and a passion for vintage vehicles, one young woman hopes to bring a new travelling service to the far reaches of the island. ALIX NORMAN finds out more
In the 1940s and 50s, Cyprus had mobile libraries. These book-packed vans bumped from village to village, lending knowledge to keen young men and women who wanted to learn more of life beyond their community.
There were similar ventures in the UK during the early half of the 20th century – in fact, many of the county libraries still send book buses out to rural areas. But there's something a little more magical about an entire generation of Cypriot librarians packing armfuls of books into rickety vans, setting off for days at a time, and puttering along rough mountain tracks to remote villages where their arrival was, perhaps, the highlight of the month.
Cyprus' mobile libraries died out, of course. Everyone moved to the cities. Wifi went up the mountains. There was simply no need for a visiting library. Except, says, Marianna Charalambous, there is. Because books – real, hold-it-in-your-hand-and-smell-the-pages storybooks – will always be superior to digital content.
"I know it's ironic," she laughs. "I'm a social media manager who prefers books to the internet. But it's long been a dream of mine to restart the mobile library idea. To spread my love of reading across the whole island!"
Marianna is the founder of Vintage Rides, an online platform that rents out classic vehicles (think refurbished Campervans and old Beetles) for weddings and the like. She's also the brains behind the Cyprus Bookworms Club accounts on Facebook and Instagram, a digital meeting space for bibliophiles. "Why not," she asks, "put my two passions together? I'm a long-time lover of libraries; almost a fixture at my local Dali Municipal Library! And I have access to a beautiful old refurbished VW van of my own. There are communities out there that might really enjoy a visit from a mobile library now and again!"
Though the idea is still very much in the formative stage, Marianna has already trialled at least one library trip – to the Forest School in Kornos. "The teachers at the Forest School called me and asked if I could run an activity for their kids out in nature," she explains. "So I drove straight to the library, loaded up my VW with tonnes of books, and drove out to Kornos.
"It was wonderful," she recalls. "We made a campfire and drank hot chocolate. We read a passage from my son's favourite book, Where the Ocean Meets the Sky. And I asked each child to pick a book of their own, curl up in their blankets, and read a little right then and there. It was a magical day. We all had such fun!"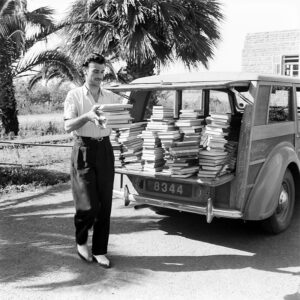 A long-time bibliophile, Marianna's love of books is evident. "Books," she suggests, "transport you to another world in which everything is possible. They're the antidote to boredom, to lethargy, to a lack of knowledge. Read a book and you can travel anywhere, learn anything, and connect with anyone!"
It's a connection, Marianna proposes, that doesn't happen so much with technology. "In some ways, I think the internet and social media has actually made it harder for us to connect with one another. I look at my eight-year-old son, who still begs for a bedtime story every night, and wonder what will happen when he's old enough for a mobile phone or an Insta account."
She pauses, and sighs. "There's something about books," she adds, "that connects you very deeply with others. If you read a book that really moves you, and then meet someone else who's also read the same book and feels the same way, there's an instant connection – you've shared an experience, visited the same world, encountered the same characters. You don't get that intense a connection elsewhere."
While Marianna has read "thousands of books in my 31 years!" she admits that she has fewer than 20 at home. "I tend to rely on libraries," she reveals. "I'm pretty sure I've read most of the books in the majority of my local libraries! It's cheaper than buying books yourself, and once the librarians see you're passionate about reading, they'll recommend books you might want to read and even, occasionally, order in books for you!
"At the same time," she continues, "any books I do own are generally passed on to people who I know will love them as much as I. 'Take it, read it, share in this wonderful experience,' you're saying; when you pass on a book, you're giving someone a gift for life. They may not keep the book either, but the story, the knowledge in those pages, will be retained for ever."
With Cyprus Bookworms Club Marianna hopes to inspire just this love of sharing. "I launched the pages just before the pandemic, in January 2020," she admits. "And I had very high hopes: we were going to have meet-ups and discussions, exchange our books in person. Well, that hasn't happened – yet!" she laughs. "But in autumn, when the weather changes and it's the perfect time to curl up with a good book and a good friend, we're hoping to host gatherings."
Currently, both the Facebook and Instagram accounts cater to bibliophiles around the island with snippets of useful book-related information. "We post information about book sales and discounts, offer giveaways, and host online discussions," says Marianna. "We also share information on upcoming book fairs, recommend libraries and bookstores, and help our members find or sell books.
"The hope is that these accounts will inspire someone to read a book, borrow a book, talk about a book, even buy a book. It's as simple as that. Books open your eyes in a way nothing else does," she concludes. "It's something our parents and grandparents knew: their knowledge came from the pages of whatever books they could lay their hands on. Often, if they lived in a rural area, these books were borrowed from a mobile library. And one day soon," she concludes, "I hope to combine my love of books with my love of vintage vehicles and once more take a mobile library on the roads of Cyprus!"
For more information, visit the Facebook page Cyprus Bookworms Club or the Instagram account @cybookworms. For information on Vintage Rides, visit the Facebook page Vintage Ride or the Instagram account @vintageridecyprus