This isn't actually a sea. But nor is it a lake. The Caspian Sea is something else altogether… At almost exactly 40 times the size of Cyprus, the Caspian Sea is the largest inland body of water in the world. It's semi-saline, and it's classed as neither lake nor sea – a decision that's purely political…
In 2018, the Convention on the Legal Status of the Caspian Sea was signed by its neighbouring countries of Russia, Iran, Azerbaijan, Kazakhstan and Turkmenistan, establishing a formula for use of the Sea's resources. Ultimately, it came down to money: the Caspian Sea is rich in oil and gas and all five nations wanted a piece of that pie.
But it's not just about fossil fuels. The Caspian is also the major source of one of the world's most costly foodstuffs: caviar. Almost 90 per cent of the planet's caviar comes from the sturgeon of the Caspian Sea, including beluga – priced at roughly €10,000 per kilo! It's safe to say that the local fishermen don't get to enjoy much of their wares. Instead, we're looking at cuisine that's cheap and cheerful, and generally transcends borders…
While spices tend to be limited to the obvious (pepper and a dash of turmeric), herbs are huge here, appearing by the handful in every dish. A favourite in all five countries, Sour Chicken consists of roasted chicken smothered in bitter orange sauce and sour grape juice, and then loaded with coriander, mint, chives, and parsley, and often served alongside a mix of split peas and brown rice.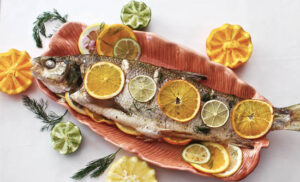 Similarly, basic fish dishes are given a bit of a boost with oodles of herbs. White fish (in particular, the Caspian kutum) remains popular in the region despite diminishing fish stocks (pollution and overfishing have wreaked havoc). Most often fished in the brackish shallows and freshwater tributaries, locals tend to stuff the fish with slices of lemon, lime, and orange, toss in a few whole garlic cloves, fry the whole thing in butter, and serve with copious amounts of parsley, mint and coriander.
There are also plenty of sumptuous vegetarian dishes. Fresh and flavourful, mella ghormeh originates from the Iranian region of the Caspian, but is popular all around the sea. Consisting in the main of fried aubergine and poached eggs, and served with basmati rice and flatbreads, the dish takes much of its flavour from a base of tomato, onion, turmeric and garlic.