A house in Mesogi, Paphos was extensively damaged and three more affected by a fire that broke out around 2pm on Sunday.
No one was injured.
Fire department spokesman Andreas Kettis said the blaze has been extinguished after four fire engines from Paphos, Stroumbi and Peyia were called to the scene.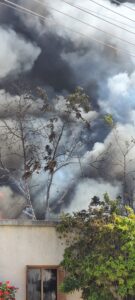 "One house was extensively damaged and three others were affected by the fire," Kettis said on his Twitter feed. "No one's life was endangered."
He added however that an ambulance was called to the scene as a precaution.
"Final extinguishing and control is done. The cause of the fire will be investigated later in cooperation with the police and, if necessary, other state services," Kettis said.
An eyewitness told the Cyprus Mail via email that the fire was in a narrow street and was very close to other houses. "The smoke was visible from the other side of Paphos," he said.
"There we a number of sounds of explosions which seemed to be exploding tyres in an outbuilding."