Thousands left the island in the 20th century, setting out for new lives in a new country. One well-known poet now asks what happened to those who were left behind
This is the story of our grandmothers: a tale that begins in the early part of the 20th century when thousands of courageous Cypriots left their homes and families for a new life abroad. The ramifications of the exodus echoed around the world – in Britain, South Africa, Australia – and down the generations, to grandchildren and great-grandchildren. Grandchildren like Koraly Dimitriadis, a second-generation Australian Cypriot and best-selling author, who's detailed her own family's story in a poem so moving that it's being immortalised on film…
The poem is entitled, quite simply, 'Yiayia Mou'. And, as part of next year's exhibition celebrating 50 years of the Australian High Commission in Cyprus, a film of Koraly's performance of the poem is being shot at the ancient Paphos Theatre.
A work that will resonate strongly with any emigrant, 'Yiayia Mou' is, says Koraly, "an epic poem, which captures the intergenerational trauma of women: how a grandmother's story affects that of her daughters and her granddaughters; how women have long been forced to suffer for the greater good of the family."
Both theatrical and historical in nature, the poem is an ideal choice for the celebrations linking Cyprus and Australia. Although Koraly herself was born and brought up in Melbourne, she often returns to the island. This time, she's here both to perform a number of her works and to film the epic poem – the first act in the theatre for hundreds of years.
Invited by the Director of the Paphos Theatre Archaeological Project (which falls under the auspices of a Sydney University Museum fieldwork project) to be the sole wordsmith in the exhibition, Koraly's work reconciles past and present. Like the playwrights of old whose works were brought to life on these stones, Dr Barker explains, her poems challenge the moral and humanistic questions of existence: "She's not afraid to tackle big ideas in her writing," says Dr Barker, "nor to focus on human experience. Stories matter, they matter across time and space. Words bring us all together."
The words of 'Yiayia Mou' certainly unite generations, expressing the loss and love that transcends both years and miles: "It's about three generations of Cypriot women who have survived separation from their families or homeland," says Koraly. "Three generations who have been forced into resilience…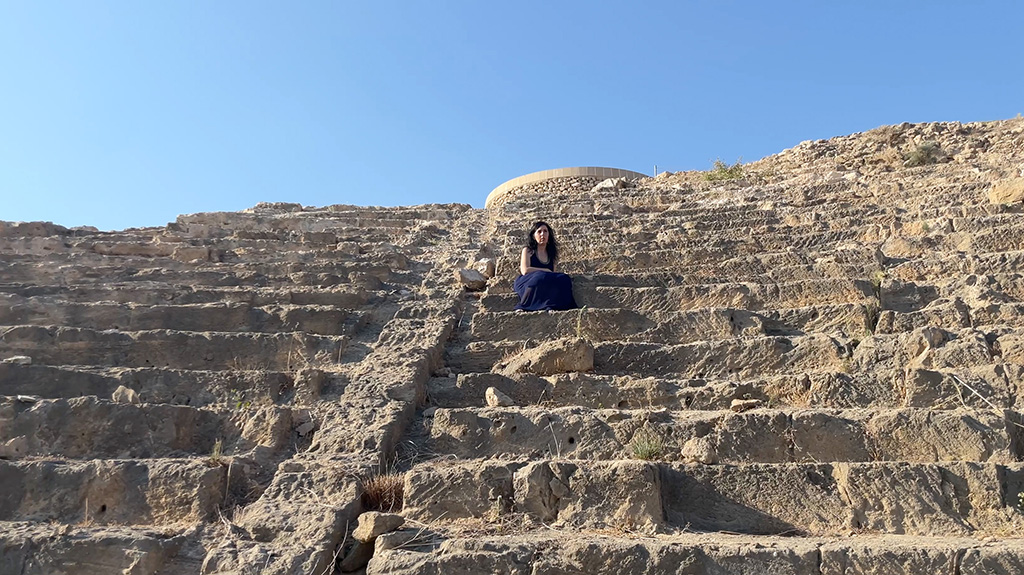 "Like so many émigrés, my mum and aunts left Cyprus in search of a better life," she adds. "They didn't want to go; they were sent – sent by their families who had no means of paying their dowries. And so they went to Australia on a short visa," she adds, "and had a limited time to find a husband – or return to Cyprus as failures."
Written from her own, her mother's and her grandmother's point of view, the poem switches from present to past. Describing a visit to her grandmother in Cyprus, Koraly writes: 'You clenched your fist hard, said that when I return to Australia / I must gather my family, my cousins, my aunties, my uncles / I must hire a big ship, you said, and return to Cyprus / return to you, where I belong'.
Slipping into the past, the poet retells her aunt's desperation when, at the age of 19, she begs not to be sent to Australia: 'I don't want to marry / I just need a room, Mum / Don't send me away, Mum, / Don't send me away!'
And, imagining her grandmother's thoughts as one daughter after another sets sail, Koraly writes: 'And on the day she left, the ship was sailing away / and I held onto that wire fence / and they were pulling me off / But I wouldn't let go / I couldn't let go! / I couldn't let go!'
This story of forced female subservience is, suggests Koraly, a tale repeated down the years and across the miles. "My grandmother was forced into marriage; my mother was forced to leave Cyprus to find a husband; and I, all my life, knew that I must marry – it was part of my heritage."
But, two generations on, this heritage is often the cause of an identity crisis, the poet proposes. "There's a nostalgia our parents passed on to us for a homeland that isn't ours. So second- and third-generation children are subjected to a constant emotional push and pull, never knowing quite who they are, what they want, or where they belong."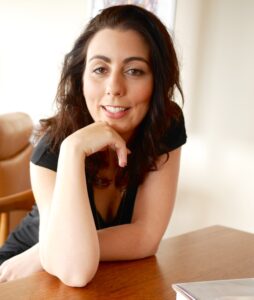 As the author of Love and F**k Poems (currently the best-selling poetry book in Australia) and Just Give Me the Pills (from which 'Yiayia Mou' is taken), Koraly draws largely on her own experiences to make sense of this inherited identity crisis.
Her defiant stance has earnt her a host of accolades and a great number of devotees – for whom she will be performing many of her poems while in Cyprus. And it also brought her to the attention of Dr Barker. The upcoming film is the result.
"When I was asked to perform one of my poems on film at the actual Paphos Theatre," Koraly reveals, "'Yiayia Mou' was my first and only choice. There's a severity to the Theatre landscape that echoes the visceral emotions of the poem. Also, 'Yiayia Mou' is one of the most significant poems I have written about Cyprus, and my connection to it – a poem that, like the theatre itself, reconciles past and present through the spoken word.
"And lastly, 'Yiayia Mou' is at its best when performed – be it live or on film. I suspect it encapsulates emotions that many second- and third-generation Cypriots feel but can never express. It's a poem whose words demand to be screamed into the sky for all the women who are no longer with us. I hope," she concludes with a sad smile, "that our grandmothers, our yiayias who suffered so much, can hear these words from above…"
Koraly will be performing at Synergio in Limassol on October 6 and hosting a workshop at Blend.the space on October 8. For more information, visit https://koralydimitriadis.com/performances/