Little Paris, New Berlin, the City of Joy – the Romanian capital goes by many a name. Over 10 million sightseers visit the city each year, swelling an already substantial population.
The city's denizens are generally having a fairly good time of it: according to GDP and purchasing power, the standard of living in Bucharest stands at 145 per cent of the EU average – compared with, say, 125 per cent in Madrid and 110 per cent in Rome. Many of the locals are employed in the service industry, or in the flourishing sectors of communication and petrochemicals. And, in that the capital boasts one of the fastest internet speeds in the world, it's quickly becoming a hub for remote employees.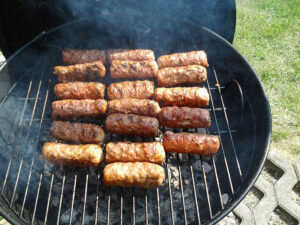 But what's fuelling these workers? Well, Bucharest certainly has the usual fast-food joints but the more traditional fare is also a favourite, such as mici (or mititei): spicy meat rolls grilled on charcoal and usually eaten on the go.
The humble covrig is another ubiquitous snack food. Although these circular pretzels are said to have originated with Greeks who settled in the nearby town of Buzau around 1800, covrigi are immensely popular in Bucharest and are now included in the European Union's list of protected geographical indications, i.e. they belong to the specific region.
Telemea de Sibiu is another of these PGIs. A semi-hard cheese made from sheep's milk and consumed both fresh and mature, this cheese is often enjoyed alongside local breads such as cozonac (a sweet loaf, sometimes filled with walnuts) or țară pâine (a moist, egg-free, dairy-free bread made largely from cornmeal).
Sarmale (simple cabbage rolls stuffed with ground pork, onions and rice), mămăliguță (fried pork served with polenta and pickled peppers), and Tobă (a meat jelly made with flesh from the head of the pig) also make the menu, alongside an array of meaty soups. And dessert is often the local version of turta dulce, a spiced biscuit made with nutmeg, cinnamon, walnuts and honey – simple yet flavoursome fare that's well-suited to the City of Joy!