It is impossible to stop the use of fireworks in residential areas, a police inspector said on Friday noting that authorities focus on prevention and have confiscated some 3,000 kilos of pyrotechnic devices in the last 12 months.
Some 25,000 to 30,000 confiscated fireworks, firecrackers and other low explosive pyrotechnic materials weighing about three tonnes have been destroyed in the last two days by explosive experts at the Skyra Vassas quarry in Monagroulli, Limassol.
The operation started on Thursday at the licensed area, when approximately one and a half tonne of the confiscated explosives was destroyed, with about the same quantity having been destroyed on Friday morning.
These included expired pyrotechnics.
Police informed the public that explosions occurring during their destruction are not a cause of concern, as they published photos and videos of the operation.
Police inspector and explosives expert Odysseas Papadopoulou, who was at the scene on Friday, told the Cyprus Mail that this practice takes place almost once a year.
Highlighting the danger of such devices, the expert said the quantity destroyed contains about 1.5 tonne of clear explosive material.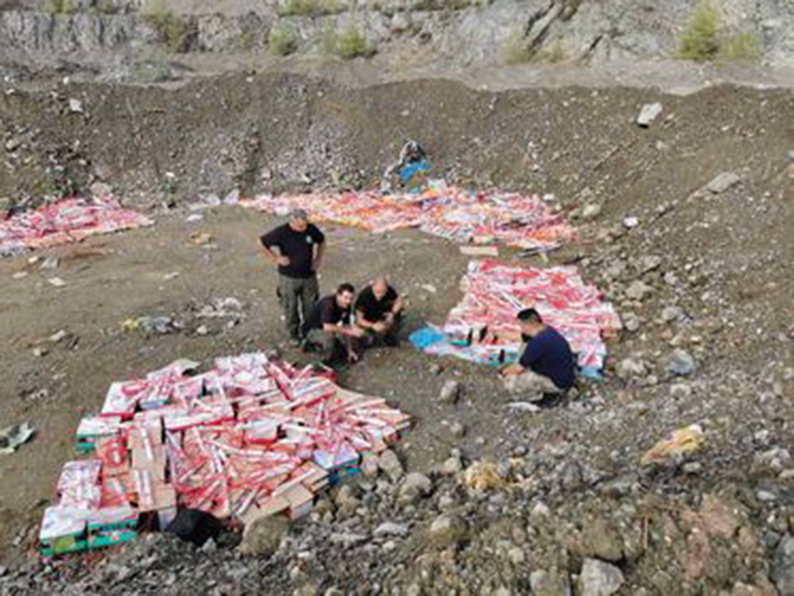 Papadopoulou added that there are complaints of firework use in densely populated urban areas, however, the curb of this phenomenon is basically hopeless.  Last month, an Aglandjia resident has also reported to the Cyprus Mail that she could hear fireworks going off at a nearby house almost every night in recent weeks.
"The unlicenced use and the use in unauthorised areas is extremely dangerous for the user but also others around them," the officer said.
However, he explained that when people use fireworks in residential areas "is completely impossible to stop it" since if they receive a complaint, the use has already happened until they arrive at the scene. It is also very difficult to prove firework use once it is done based on the residue so that the case can be submitted to court, Papadopoulou said.
"Our effort is to focus on prevention which can be achieved through tip-offs," he said. This will help authorities to stop the fireworks from reaching their final user.
According to the explosives expert, once they do reach the final user it is basically too late.
Penalties for possession and import can reach up to ten years in prison, a fine of up to €10,000 or both sentences combined.
Βίντεο και φωτογραφίες από τη χθεσινή καταστροφή πυροτεχνημάτων στο Μοναγρούλλι. Η καταστροφή συνεχίζεται και σήμερα γύρω στις 11.30π.μ., από μέλη του Κλάδου Πυροτεχνουργών της Αστυνομίας. https://t.co/aETLxNwu4k pic.twitter.com/7u0gArxVTa

— Αστυνομία Κύπρου (@Cyprus_Police) October 21, 2022