The late Archbishop Chrysostomos was known as a straight talker. Below is a taster of his views on the Turks, the church, former leaders, the EU, homosexuals and more
"I want to serve the church, I don't want anyone to clap their hands for me, bow to me, or tell me I'm beautiful. I want to work for the church. Many times I have been accused of disrespecting the Synod."
"The Turks have remained uncivilised, they are rude, and they will remain [this way]."
"We have good relations with the people who truly feel Cypriot. But with those who are first Turks and then Cypriots, we don't have."
"In discussions we had, the President [Anastasiades] told me that he saw a two-state solution, and I strongly disagreed with him. As soon as there are two states, Cyprus will be overrun by Turks from Turkey."
"Makarios considered [the late president Tassos] Papadopoulos a very intelligent man. He liked Tassos and the blessed Alecos Michaelides [late foreign minister]. Makarios said that if these two were not selfish and could agree, they would be an elite duo that would move Cyprus forward. Unfortunately they were both selfish and couldn't do it together".
On Elam: "They were educated children and I thought they would do well. Then when I saw that they were attached to the Golden Dawn killers I said no. They were wrong. It bothered me a lot. It bothered me beyond belief."
"We did a study and found that only on working days, the Archdiocese alone gives around 10,000 euros per day. About 3,000,000 euros a year. The church has never given so much. I am happy because we can and do give."
On church opulence: "If you go to a chapel that is dirty, unkempt, etc. and you enter a magnificent temple is it the same? The magnificence of the temple lifts you up psychologically. It is God's house, not ours."
"He who goes to imitate Makarios will be ridiculed. There was only one Makarios. I met Makarios very young, at the age of 22, and admired him. Many consider him selfish. He was not selfish. He knew and evaluated people."
"I have a small bank account that I don't let exceed 10,000 euros. I have this money so that if something happens to me and I need or want to help I won't bother anyone. I don't want to have money because I don't need it."
On the controversial Bishop of Morphou: "He makes fun of everyone. He doesn't have a mental problem. He says things without understanding. Some call him crazy. I don't believe such a thing. He makes fans, just like Limassol [Bishop Athanasios] does. I learn that Morphou said that he has more followers than Limassol and so when I leave the Archbishop will be him and not Athanasios".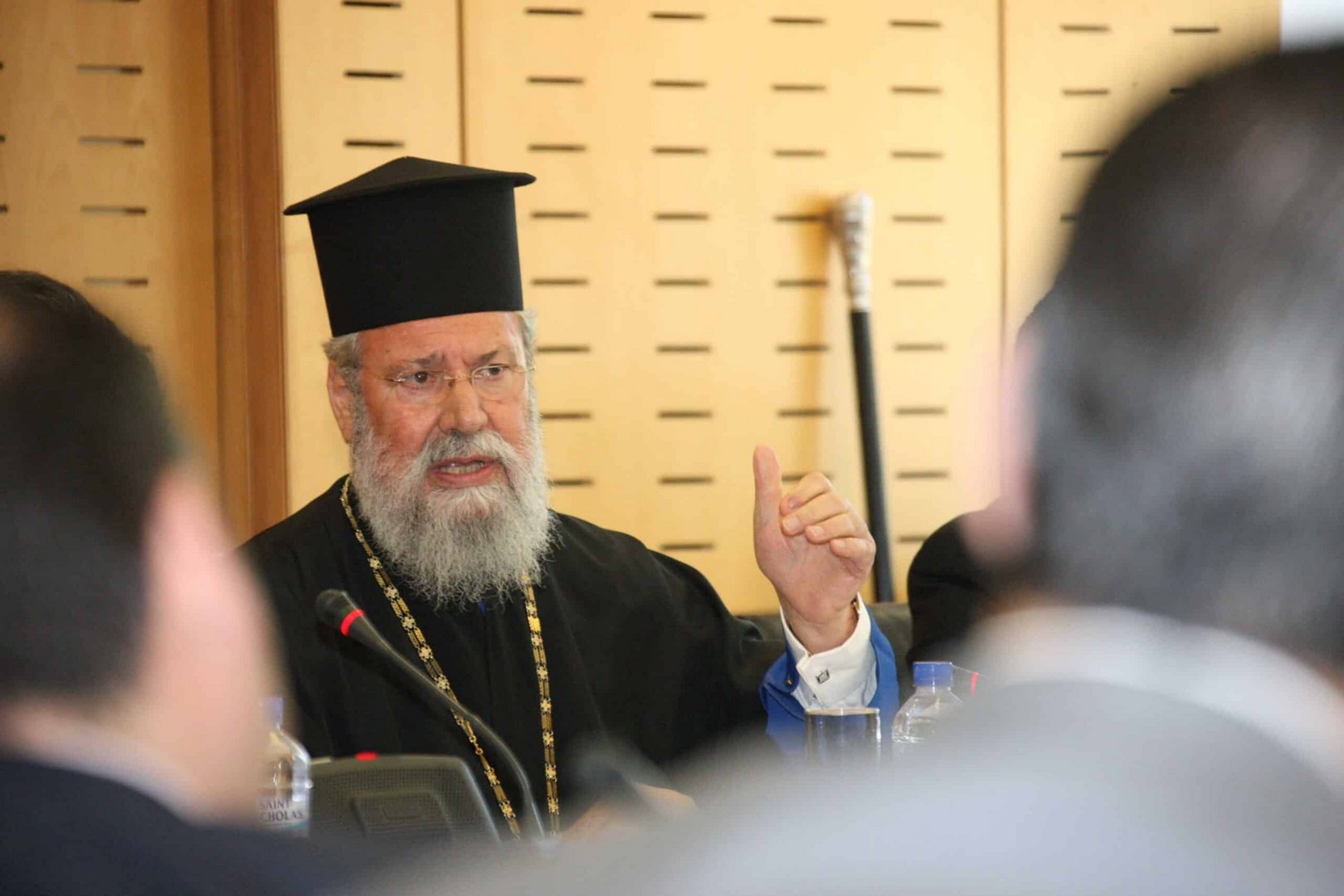 On the 300,000 euros donated by Jho Low and if he should return it: "I want to be honest. Who should I give it to? Let them tell me. If he is a thief should I give it back to the thief? I spend 3-4 million in aid a year. Will 300,000 thousand save me?"
"The reason I accepted [money from Jho Low] was because the money came through a bank that I knew is controlled by the Central Bank and the Central Bank is controlled by Brussels and so easily-easily the government does not give permission unless they are also checked by the police and interpol. These things were known to me, I was not a novice not to know. But Akel wanted to hurt me and found the opportunity. And I said, 'I don't care'. Let them."
"I'm honest, I don't want to be a liar."
On European partners and friends of Cyprus: "They are partners in name, I believe that they are stiff, self-interested, they want to subjugate us, they want to put their hands everywhere, I believe, and in the underwater wealth that has recently been discovered in region, I believe that in the end they will also put their hands on the national issue."
During the financial crisis: "Let's not make saints of the EU member states. There is a lot of black money in Britain, France and Germany. I can't know where the black money might be here. Better ask Mr. Schäuble."
"The national issue that concerns the entire Cypriot people is one thing, and politics is another. I am neither a politician nor do I interfere in politics. We are interested in the national issue taking the right course. And unfortunately it doesn't."
"Greek Cypriots who cross to the occupied areas do not to visit churches and the graves of their ancestors but to do transactions with the occupation, for fun, for the use of the illegal airport."
"I would even back a black man if we had the same views," he said when asked if he would support a left-wing candidate in the run-up to the 2013 presidential elections.
"There have always been homosexuals throughout history, though in the past they did not take pride in their sexuality in contrast to today. When Jesus himself said that those who do such things will not inherit the kingdom of God, what am I supposed to say? Shame on them. They have gone too far and hold pride parades. Let them be happy with their pride parades. I am not interested in people like that."
Once asked about Church opulence, he responded to a question about expensive cars compared to Jesus riding a donkey into Jerusalem on Palm Sunday, thus: "If it were today, not even Christ would enter on a donkey. I, for example, have no problem going around in a Mini but I can't fit in."
On facing death he said: "The most certain thing from the moment you are born is that you will die. Everything else in your life may or may not happen. But death will happen. So I don't mind. From the moment I was born the time will come for me to leave."