Thought Limassol rents were expensive? Try Luanda! Angola's capital is right up there with Shanghai as one of the costliest places in the world for expats. And it comes down to the old supply and demand problem. One third of this African country's 33 million residents live in Luanda, housing – especially of the type that expats prefer – is limited. Once known for its dreadful civil war the fragile peace that has reigned since 2002 has led to a population boom.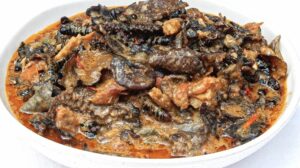 With a lot of the population being poor, it's no surprise that the most common food in Luanda is cassava. Cheap and widely-grown, this root vegetable is made into everything from cassava flour (called fuba) to alcohol. Among the local dishes made from cassava we get funge (a porridge that's often consumed alongside fish, pork, chicken, or beans) and pirão (a thick soup made with fish or beef stock, and served with rice). Neither are said to be particularly appetising unless laced with the local gindungo sauce (made from hot peppers), but both are a staple in poorer households.
If there's a bit more money around, there's caldeirada de cabrito (goat meat stew served with rice); moamba de galinha (chicken with palm paste, okra, garlic and palm oil paste); and moamba de ginguba (basically the same ingredients as above, but made with peanut sauce instead of palm paste).
Or, given that this is a coastal city, the menu might include calulu, dried fish with onions, tomatoes, okra, sweet potatoes, garlic, and gimboa leaves (similar to spinach); caruru, a shrimp and okra stew; or caldeirada de peixe, a whatever-you-can-catch fish stew that includes sweet potato, onion, tomato, spinach and is believed to be a perfect hangover cure if consumed before the headache kicks in!
Lastly, there's the highly traditional Angolan dish of catatos: super crunchy caterpillars that are fried with garlic, onion, tomatoes and pepper! Although more commonly served in the north of the country, catatos can still be found in the capital, where its healthy amount of protein, iron, and vitamins can tide one over till payday.