When Queen Elizabeth II died, she was widely reported to have been the second longest-reigning monarch in history after Louis XIV. That was wrong. The actual longest-reigning monarch was Sobhuza II of Eswatini. Born in 1899, he ascended the throne at the age of four months, and ruled over his nation for 82 years and 254 days (a decade longer than King Louis) until his death in 1982. However, until 1968, Eswatini (or Swaziland as the country was once known), was under foreign rule: hence Sobhuza's lengthy rule is not recognised as 'internationally sovereign'.
When he died, this Ngwenyama (the Swazi title for King) left Eswatini a slightly better place. He'd founded a national constitution, helped set up an electoral college, and brought much of his country's land and mineral wealth back under indigenous control.
But now, vulnerable as it is to climate change, this tiny African nation is suffering from persistent drought, desertification, and consequent food poverty.
Which means, in culinary terms, that much of the population exists on a simple diet of tinhlavu (grains) and tibhidvo (vegetables). Subsistence farming is ubiquitous, and locals tend to survive on a diet of sorghum and maize, supplemented with rice, corn and sweet potatoes or stews made from spinach, green beans or pumpkin.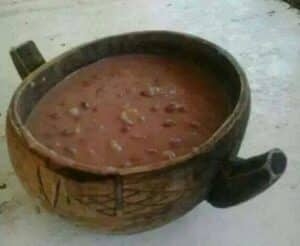 Among the most popular dishes are sishwala (a traditional Swazi porridge consisting of dried sugar beans, maize flour, water, and salt); incwancwa (a sour gruel made from fermented maize meal); and sitfubi (a popular breakfast porridge of milk and corn meal). Other staples include emasi (a fermented milk dish), roasted or boiled corn on the cob, and umbidvo wetintsanga, or pumpkin leaves cooked with groundnuts.
Although umncweba and umkhunsu (both forms of dried spiced meat, similar to biltong) are a widespread snack for those who can afford meat, most non-veggie dishes tend to appear only on special occasions. Goat is the favourite, roasted whole or in a variety of stews. But chicken also makes the menu on occasion, usually roast over an open fire.
To drink, it's most likely emahewu (a meal drink made from fermented thin porridge) or tjwala, the nation's traditional, locally-brewed beer. There's also fruit on offer: alongside sugarcane (an important export), mango, guava, paw-paw, banana, pineapple, and avocado are readily available.