EU agency tasked with border control has high praise for Cyprus' rate of returning failed asylum seekers
While Cyprus has been criticised for its treatment of migrants, it has been described as being a "role model in terms of returns", speedily sending those from safe countries back home once their application for asylum has been rejected.
"The cooperation with Cyprus and Frontex is amazing. Cooperation between authorities and police couldn't be better," head of the European Centre for Returns Lars Gerdes told the Sunday Mail.
The centre has been established by Frontex, the EU agency tasked with handling border control.
Compared to other EU countries, the percentage of migrants in Cyprus relative to the population is extremely high. Yet, the number of returns it carries out, is roughly the same as some of the largest EU states, Gerdes said.
In the last two months, Frontex handled between 800 and 900 returns for Germany and about 1,000 for France. In Cyprus, the figure was 700. "This is huge, this is unbelievable. I think the authorities are doing a great job here," he added.
While Frontex organises a number of returns, member states can also arrange their own independently. So far this year, Frontex has carried out 22,000 returns overall.
Some go on charter flights while others are privately contracted – usually reserved for violent groups where it may be unsafe for them to be on chartered planes with families onboard.
"We also have to be responsible for taxpayers' money but we also do charter flights. These returns are very often criminals," Gerdes said.
But still not all of them want to leave. Gerdes said violence is not uncommon, with some individuals even putting razor blades in their mouths and bite into them before getting on the plane.
"They know that we will take them to the hospital for treatment because we care but then maybe they escape from there," Gerdes said. At other times, people may hit their head to escape – or buy themselves more time – having to get on the plane.
Cyprus largely carried out returns to India, Nigeria and Turkey, Gerdes explained.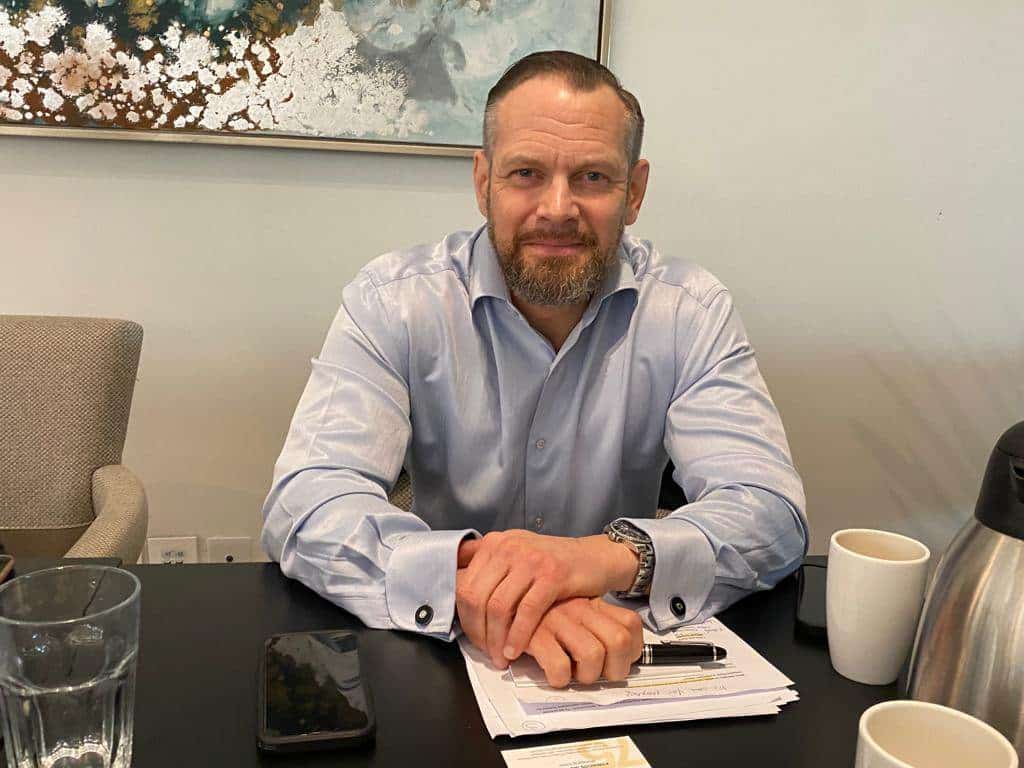 A key detail however is that for a return to be carried out, the country of origin must accept this and many simply do not care – though Gerdes refused to disclose details.
Earlier this week, Interior Minister Nicos Nouris said Cyprus has repatriated close to 7,000 migrants this year. Gerdes said of these, Frontex returned about 2,200, with the Cyprus authorities the remaining 4,800.
On the island, Frontex has staffers at Larnaca airport and the Pournara reception centre. Though representatives of the office toured the green line while in Cyprus this week, the question of crossings across the buffer zone is a political issue Frontex is staying out of.
Frontex staff serve three main purposes on the island, with the employment of 54 people: migration management, return counsellors and forced return escorts. The first group, with 25 employees, works in the Pournara reception centre, supporting migrants with their registration.
Officers screen migrants and conduct (voluntary) interviews with them to obtain information about smuggling routes and various organisations that operate with smuggling groups. "This is very important for our risk analysis because we can see where they are coming from," Gerdes said. The team leaders are Cypriot police officers.
Return counsellors advise migrants about the possibilities they have about voluntary returns. According to Gerdes, the agency works with a number of NGOs it finances and helps migrants who return to set up a business and re-build their life. "This helps not only the individual but the local economy," he added.
The last group is the forced return escorts who help Cypriot officers with non-voluntary returns, concerning violent individuals who resist going back.
As Europe continues to grapple with migrant numbers, Gernes said the challenges on the ground are "getting bigger and bigger."
"There are more and more criminal groups armed with knives and firearms." A few weeks ago, a Bulgarian officer was killed after there was gunfire from the Turkish border towards the Bulgarian border, making the challenges all the more difficult.
There is no doubt there is a growing threat of the weaponisation of migrants however, he said.
"We have strong indicators that different actors use or abuse migrants for political or criminal purposes. The best example is certainly Belarus but there are certainly other external borders where we can see this phenomenon. It is a hybrid threat for the EU."
This is part of the agency's efforts to fight global crime, with a lot of focus on tracking trafficking groups, smugglers and criminals who abuse women, Gerdes said. "We deal with some of the most terrible crimes that exist in the world."
This includes smugglers too who give false promises. "For instance, they tell people Cyprus is a Schengen country. They sign a contract with them and once that's done, they owe them a lot of money. To repay them, many are forced into prostitution."
At the same time, Frontex also seeks to protect the system from those who don't really need asylum. "We need to protect the system from being abused."
"Police work is all about helping people. This is the identity of the European police officers. We want to help people and save lives. This means not only guarding the border but helping people in need of protection."