In a shocking story, one Nicosia-based instructor tells ALIX NORMAN that yoga brought her from the very brink of death. It's a journey that inspired her to write the island's only yoga guide
Yoga has been called a sport, a religion, and a discipline. But for one Cypriot, yoga was a literal life-saver.
"20 years ago, I was in a wheelchair, severely depressed and willing myself to die. That's how bad it was," says Florendia Lambrou. "Yoga set me free."
So great were the benefits that Florendia has written an entire book on yoga; a guide born of her years practising and teaching. Simply written and imbued with the author's characteristic warmth, it's a delightful handbook for "anyone who's ever been intrigued by yoga, but doesn't know how to begin.
"Not all of us have the time, money or strength to make it to a class," she smiles. "And even if we can, there will be times when your instructor is away and you're left hanging. Alternatively, if you try to learn yoga from YouTube, you'll often find you're constantly pausing the videos, looking for answers that are never given. Or perhaps you'll come across poses you simply can't achieve, and that puts you off…"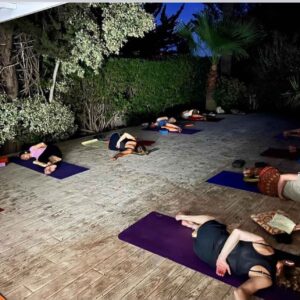 What Florendia has done in Yoga Pose Recipe is set out the basic breaths, poses, and flows in a simple, clear manner, so that anyone of any age or ability can develop their own personal practice. "It gives you a chance to create a practice that works for you, no matter the ups and downs in your life. Yoga isn't just something you do when you're at your best," she says with a wry smile. "It's not just a discipline for 20-something gym bunnies who rock their spandex, but a lifelong aid to feeling better inside and out."
Florendia is speaking from experience. Her own yoga journey – shocking and heart-warming in equal measure – began in London where, from a young age, she excelled at sports. "I always loved everything to do with movement and flexibility," she recalls. "Aside from games at school, I took modern dance, ballet, and movement classes, and was fascinated by health and wellness. In time, these blended into my area of study, fitness instruction."
Completing her studies in the late 80s, Florendia moved back to Cyprus at the age of 19 and immediately started working at a gym. "I guess I was one of those gym bunnies," she laughs. "Over the years I learnt and taught in several Nicosia gyms, and even had my own for a while. I taught aerobics and step, hip hop and floorwork, flexibility and kickboxing – whatever happened to be the craze of the moment.
"Don't get me wrong," she laughs, "I loved it! But I always felt I was trying to prove something to myself or others. And that all culminated in my entry into a Cyprus-wide fitness competition mere months after the birth of my second son…"
Pushing herself hard, Florendia took gold in the women's division of the IFBB Bodybuilding competition's Fitness category at the age of 30. "And then I was told my win automatically qualified me for entry into the Mediterranean-wide competition of the same name, just a few weeks later. So I pushed even harder…
"But pride comes before a fall – a quite literal fall," she jokes. "There I was, doing my routine on stage, when I landed a jump splits that snapped my leg tendons from one end to the other!" High on adrenaline, Florendia completed her routine and came in third. But what she thought was a simple injury was set to shatter her life. "The competition was in April, and I absolutely believed I'd bounce back in a matter of days. But when autumn rolled around and I was worse than ever, I finally admitted defeat.
"The fear of not being good enough had kept me going. But come November, I was packed off to Greece in a wheelchair for a major operation. And though it was a success, I was warned I might never achieve full movement again!"
It was at this point that Florendia admits to becoming "severely depressed. The thing that had kept me going for all those years had gone up in smoke. And the thought of never again being able to help or inspire anyone through my teaching had me suicidal. I really did want to die."
Bit by bit, Florendia pulled herself back from the brink, following her doctors' orders to the letter. But it was yoga that ultimately saved her. "As part of my recovery process I was doing a lot of gentle movement," she explains. "And yoga fitted perfectly into that ideal. Not only did it focus on slow, soft poses rather than hard-hitting, fast-paced exercise, it also took into account stuff I'd never considered: breathing, meditation, and addressing both body and mind.
"It was," she smiles, "like a rebirth. I could see the benefits straight away: my anger was less intense and less often; my body became strong and healthy like never before. After just a few weeks, everything began falling into place. And for the first time in my life, I was able to silence all the fears I'd internalised growing up."
This new undertaking and a yoga teaching course initiated a host of beneficial changes: "I was able to leave an unhappy marriage, find my own voice and build my own path. Yoga brought the real me into the light. And that's something I've seen happen again and again with my students," says Florendia. "And it's why I'm so passionate about sharing yoga with others – be it through my classes or my book.
"Yoga Pose Recipe is for everyone, for any age or ability. It's accessible to students who don't have the money for classes, to parents who don't have the time, to people who aren't comfortable in a gathering. And most importantly," she concludes, "it's for anyone who's recovering from illness or surgery. In my time, I've been all of these things," she smiles. "And I know what it is to have no hope. Yoga can change that. It won't just give you your life back, it will make it better in every way."
Yoga Pose Recipe is available on amazon and from the Soloneion and the Parga bookstores. It is published in both English and Greek