Homeless people were sleeping at the Larnaca brick house that was damaged by a fire early on Saturday, the fire service said in its statement.
Three fire engines from Larnaca fire stations responded to the call about a fire at a large brick house near Larnaca bishopric around 5.40am.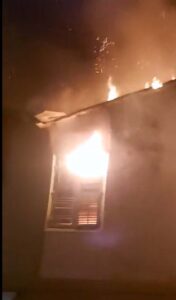 It took firefighters about one and a half hour to put out the fire. But the blaze burned the first floor and the roof of the two-storey brick house, fire service spokesman Andreas Kettis tweeted.
The house was assessed as dangerously close to collapse.
Kettis said no one was living at the property, but it was used by homeless people.
However, the house appears to have been empty when the fire broke out.
Police and Larnaca municipality officers were at the scene. The fire service spokesman said investigations to determine the cause of the fire will be carried out once the house is deemed safe to enter.