Montenegro is a relatively new country, which only gained independence from Serbia in 2006. Although the nation has a rich history, recorded back to the 9th century, it's little known on the global stage. But the tiny nation (roughly the size of Sydney for comparison) is rapidly gaining in popularity, with 1.6 million visitors each year now revelling in the country's gorgeous sights, sounds, smells and tastes…
The food of Montenegro is generally divided into three regional styles: mountains, heartland and coast. From the rugged, soaring peaks, we get nourishing, meaty dishes; from the high karst plains there's often more grain-based fare, along with soups and stews; and from the Adriatic shoreline comes all manner of marine cuisine – including the deliciously garlicky buzara, packed with freshly-caught prawns, shrimp, clams or squid, all cooked in a red or white wine sauce.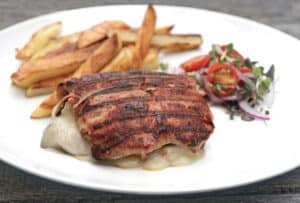 Brav u mlijeku, or lamb in milk, is a traditional mountain dish; a staple where the nights are cold and the snow is high. Traditionally cooked in a sac (a bell-shaped pot) over low coals, the lamb is slowly braised in milk alongside root vegetables such as carrots and fennel. Seasoned with rosemary, garlic, and parsley, the dish is delicately tender and full of flavour; best enjoyed with chunks of crusty bread.
From the nation's heartland, there's kačamak with kajmak, another slow-cooked dish. A heavy porridge that's made from cornmeal and potatoes and served with a side of traditional cheese and a dollop of sour milk or yoghurt, this makes for a hearty breakfast.
And from the balmy coast – which stretches 300 kilometres in length, and includes the world's most southerly fjord – there's crni rižot, a unique black risotto that consists of local squid and shellfish cooked in white wine and served over white rice.
Throughout the nation, you'll find njeguski steak. Lined with the local njeguši prosciutto (dried and salted, and packed with flavour) this pork or veal schnitzel is covered in kajmak cheese, rolled, breaded and fried and served with fresh vegetables and thick-cut chips. Considered the unofficial fare of Montenegro, njeguski steak is an authentic staple of national cuisine.