There are so many unforgettable things in Cyprus: golden shores, beautiful ancient ruins, marvellous meadows, and… thousands of stray cats on the streets. Indeed, Cyprus can be easily called the island of cats, with its human population being smaller than the feline population (1.2 million people VS approximately 1.5 million stray cats). Even though these cats are lovely and friendly, it's hard to ignore the problem of a growing furry population and the fact that something has to be done about it.
From the fact that there is still a very big number of stray cats on the streets, it's obvious that the government cannot deal with the cat over-population on its own. This means ordinary people and organisations should also take part. But can we contribute in a way that would change things for the better? Which capacities do we have and how exactly can we tackle the problem? The AdTech Holding team have some ideas to share.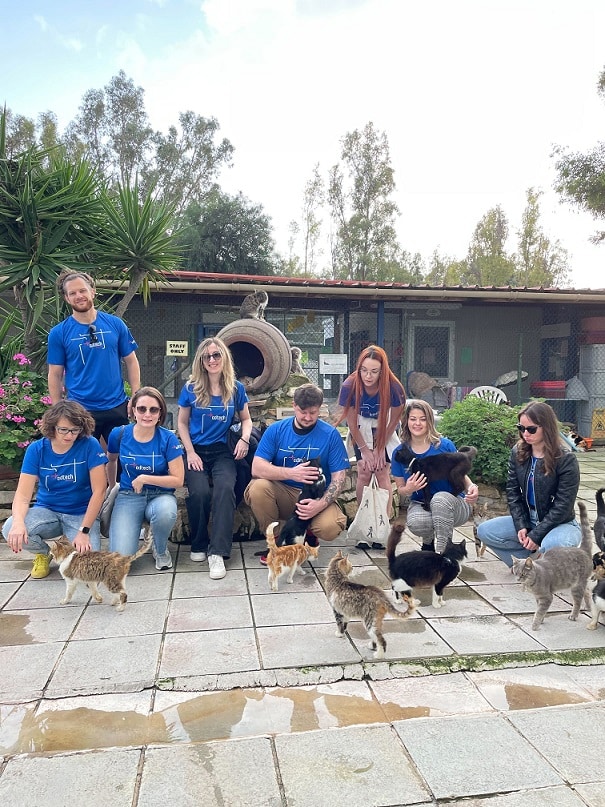 How is the issue tackled?
In addition to concerned residents who feed and take care of stray cats on their own, there are a number of cat-caring organisations in Cyprus. One of them, Malcolm's Cats, a shelter named after its founder Malcolm C.P. Stevenson, is a home to about 200 cats. All the felines are kept there in comfort and safety, carefully treated by the vets and well-fed.
However, even though a lot of cats are re-homed every year, the number of new ones taken in, is bigger. The main cause for the growing number of stray cats, undoubtedly, is the inability to sterilise them.
Last year, the Cyprus government  released the amount of €100,000 for cat sterilisation, which was €25,000 more than in recent years. Even with the additional money, the amount was nowhere near enough to prevent the dramatic growth of the population of stray cats.
It is important for individuals to take care of the strays, feed them, give them water and some attention. However, an individual or even a family, simply cannot tackle the problem comprehensively. Of course, one can devote oneself to saving cats, catching them on the streets, taking them to vets and paying for sterilisation. But you can hardly deal with hundreds of thousands of them around the island. That is why it is important for organisations and companies with the financial resources to take matters into their own hands.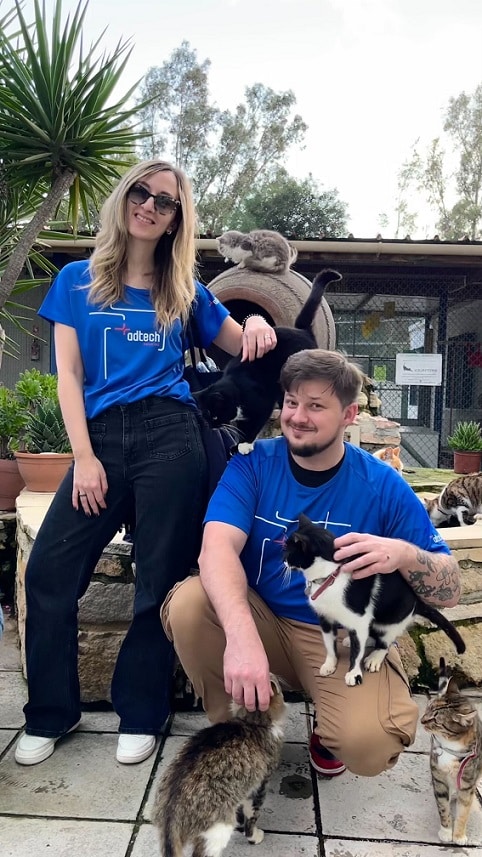 How can companies help?
The main source of animal welfare besides the state are donations. Companies and organisations can help with money to cover sterilisation and vaccinations, which become more expensive and less accessible.
Previously, AdTech Holding has made a cash donations to Folia Agapis, a foster care service that takes legal care of children whose parents are unable to carry out their parental responsibilities. Now the company has started helping Malcolm's Cats shelter financially, hoping to help tackle the stray cat problem.
"Businesses cannot stay on the sidelines when so many social sectors require help. We are all responsible for everyone who requires care and protection; that is why we want to do everything we can to help those in need," said AdTech Holding's CEO Alex Vasekin.
He added: "Malcolm's Cat is one of the largest animal shelters in Cyprus and we show our appreciation for  their important initiative by making a cash donation, assured that this would be put to good use. We also encourage other businesses to participate in whatever charity activities they want – together, we can make life in Cyprus even better – not for us only, but for everyone, including cats."
AdTech employees were very excited to know that the company contributes to a cat shelter and they eagerly visited Malcolm's Cat to say "hi" to the shelter's furry residents. The company hopes that its effort and genuine desire to help will encourage other communities to help, too!