The Bedfordshire (alphabetically first English county) village of Arlesey is believed to be the longest town in Britain; its main street more than three miles in length. Ampthill was recently ranked one of the best places to live in the nation, thanks to its rural setting, affordable housing and proximity to London. The tiny village of Bromham draws thousands of visitors each May with its world-famous Royal Duck Race, in which thousands of rubber ducks are raced down the local stream! And the county town of Bedford is home to the highest concentration of Italian families in the country, mostly descended from labourers who came over in the 1950s to work in the local brick industry.
Quite what these immigrants thought of the local fare is unknown. But it's safe to say there are more than a few traditional Bedfordshire dishes that would have come as a shock to the refined Italian palate…
Best-known is the Bedfordshire Clanger, an incredibly odd creation that's been around for years. On the outside, the Clanger appears to be a simple pastry of the sausage roll variety. But bite into the suet crust and you'll find meat in one end and fruit in the other! Many sources have suggested this food was a baker's mistake (hence its moniker). But in actuality, the Clanger (named for Bedfordshire slang word for a voracious eater) was once the traditional meal for farm workers: main course and dessert all in one!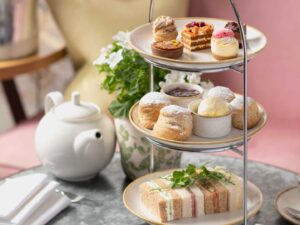 Another oddly-named culinary creation is Chocolate Toothpaste. The shortcrust pastry casing is filled with caster sugar, butter, cocoa all roughly-mixed together, which lend the tart a toothpaste-like consistency. And the whole is topped with whipped cream – making for a deliciously sweet, strangely gritty concoction!
But perhaps the yummiest of all local foods is the afternoon tea – a delightful invention that's said to have originated in Bedfordshire. Apparently, it all came about when the 7th Duchess of Bedford, a Lady in Waiting to Queen Victoria, found herself a little peckish one afternoon. In the 1800s, teatime usually took place around 9pm – an awfully long time after lunch. And so the enterprising Duchess began to order up a light nibble at 4pm…
In time, her cuppa, bread and butter became the more substantial scones and cream, scrumptious finger sandwiches, and hearty pot of char we know today. And the ritual of afternoon tea began to spread across the globe.