The Paphos Chamber of Commerce and Industry (Evep) on Wednesday said that foreign investments in the district have exceeded €15 million in total.
According to statements made by chamber secretary and director Marinos Stylianou to the Cyprus News Agency (CNA), a foreign investor has acquired the building complex that housed The Paphos Mall, for the total sum of €12.5 million.
The complex has recently been renovated and is soon expected to open its doors to the general public, housing various shops and numerous established franchise stores.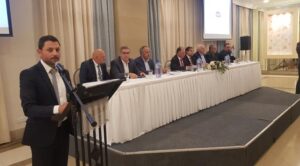 In addition, Stylianou said that the landmark building that visitors see upon entering Paphos, where the RIO cinemas were housed, which is commonly known as the Paphos Oasis Building, has already been purchased by a Cypriot company. However, the company in question, also has foreign involvement, since the large majority of shares belong to a major Dutch group.
As the Evep director mentioned during the interview, the aforementioned Dutch group is active in a number of distinct sectors, including supply chain management, the collection and treatment of chemical waste, the provision of industrial support services, logistics, the energy sector, as well software development and other information technology-related activities.
What is more, the outright acquisition of the former Orphanidis supermarket in Paphos was recently completed. The total amount for the purchase of the building surpassed €3 million. The acquisition will allow the investor to create luxury office spaces and other developments. Stylianou did not specify whether the buyers are foreign investors or Cypriots.
"With all of the above, but also combined with other smaller acquisitions and transactions taking place during this time, we are convinced that Paphos has already attracted new companies and the interest is expected to intensify," Stylianou said, noting that this will have a multiplier effect, entailing secondary economic, social and demographic benefits for the Paphos district.
"The attraction of foreign companies with headquarters in the district of Paphos continues and has been a long-standing, high-priority policy of the Paphos Municipality," the Evep director added.
Further to the above, Stylianou said that Paphos, both the city and the district as a whole, offers an ideal package for attracting foreign companies, including its comparatively low cost of living, the international airport, the low crime rate, its beaches, its countryside, the slow pace of life, as well as the quality of life it has to offer.
Moreover, Stylianou also pointed out that with the creation of infrastructure projects, foreign language schools and the addition of new entertainment options, Paphos will continue to be an attractive destination for foreign companies.
Finally, Stylianou also expressed the belief that with the completion of the Paphos marina and other infrastructure projects of extra-local importance, the district will be a highly desirable destination for many potential investors.