The sound of music rang recently from the highest mountain in the Americas as a Cyprus-based musician held a concert there, part of a planned series of events on the world's Seven Summits. Alix Norman finds out more
Last Monday the flag of Cyprus, having travelled 13,000 kilometres across the world and almost 7,000 metres into the sky, was raised on the highest point in South America – Mount Aconcagua. And it then flew above a single musician; a concert pianist from Limassol, set to earn the Guinness World Record for Highest Concert Ever Held!
Russian-born pianist Tatiana Stupak is well-known in Cyprus for her classical concerts and charity work. But what the public don't know is that the 36-year-old is also an avid climber. "I'm working my way through the Seven Summits, gusli in hand!" says the intrepid musician, referring to her zither-like instrument. "And on each peak, I give a little performance…"
To clarify, the Seven Summits are the highest peaks on each continent. Nobody from Cyprus has yet surmounted all seven. But Tatiana intends to be among the first: over the past 24 months, she's climbed two of the seven, and with her ascent of Aconcagua is now almost half-way through.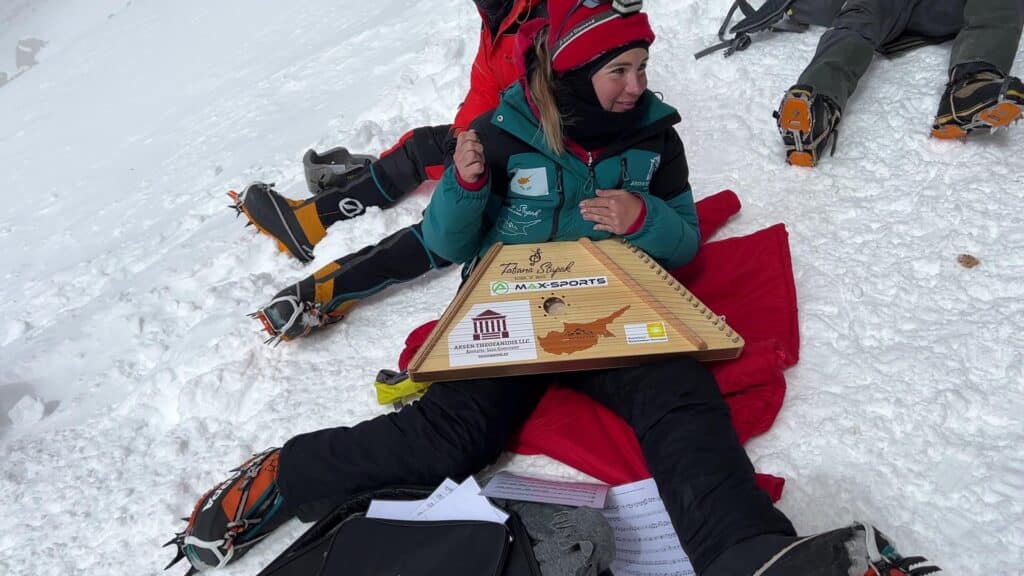 But what makes Tatiana different is her aim. While she certainly hopes to reach each of the seven summits in the next few years, her goal is a little more nuanced: on each ascent, Tatiana plays her gusli (an archaic stringed instrument that originated in Russia); the strains of her music ringing out from the heights of the world.
"In July 2019, I played the keyboard on the summit of Mount Elbrus, the highest peak in Europe," Tatiana reveals. "And then, in January 2020, I played the gusli on Kilimanjaro; I'd actually had difficulties with the electronic keyboard in the extreme cold on Elbrus, so an instrument with no electronics or batteries was a better choice – despite the freezing cold and strong winds that almost blew both me and my instrument away! But both ascents pale in comparison to that on Aconcagua, notoriously a much more challenging mountain to climb…"
While Mount Elbrus is 5,642 metres above sea level, and Kilimanjaro 5,895 metres, Aconcagua is a full kilometre higher, topping out at 6,961 metres at its highest point. It's also, Tatiana notes, not only harder to reach given that it's in Argentina, but also a more difficult climb.
"I went with a group of 10 other climbers from the 7summits.ru organisation," explains the musician. "It took us two weeks to acclimate to the weather, the altitude, and the exertion required to reach the summit – Aconcagua is no easy climb, even in the summer of the southern hemisphere! But we succeeded, despite the unseasonably cold weather that saw us tramping through knee-deep snowdrifts for hours on end."
But for Tatiana, the ascent wasn't just about the glory of the climb; nor the spectacular views. As her group raised the flag of Cyprus atop Aconcagua, the musician prepared to give the concert of a lifetime. A performance that, were it to claim the World Record, needed to be perfect in every detail…
"For a World Record of this type, Guinness requires that the performer give a 15-minute performance with no more than 30 seconds between works," says Tatiana. "The works must be recognisable, and each piece must last a minimum of two minutes and be played to a reasonable standard."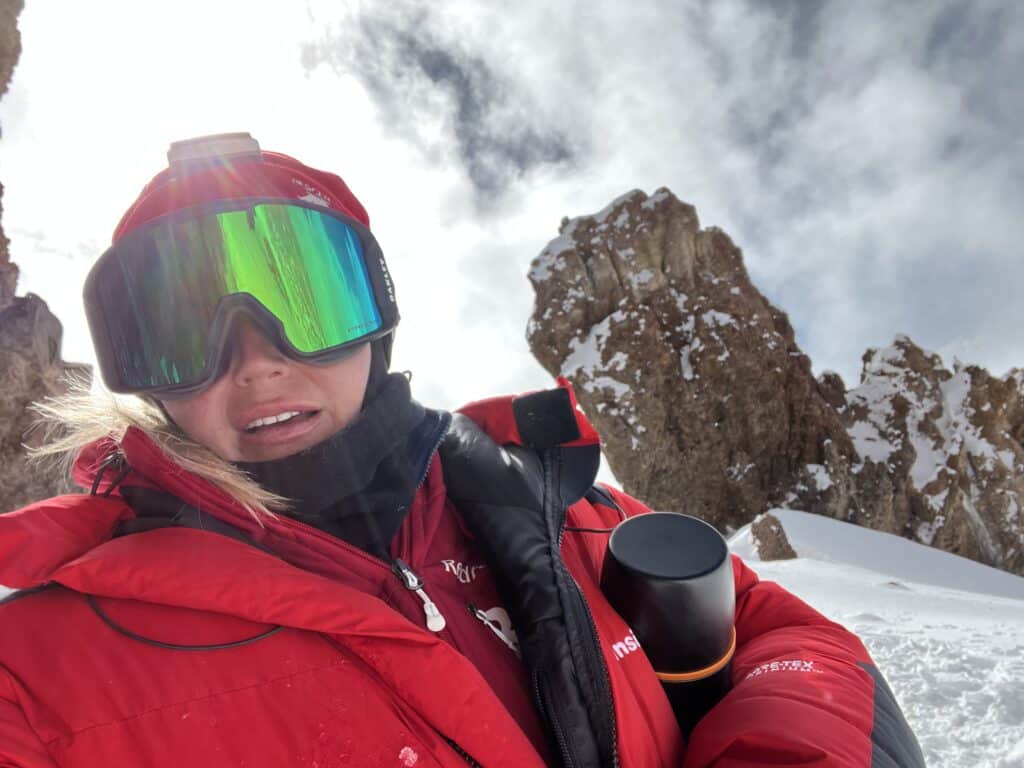 As if that wasn't enough, the sheet music had to held down by her feet – "a music stand is extra weight I didn't need, and sheet music would blow half-way across Argentina in a second!" laughs Tatiana. And the record also required an audience of at least 10 (all of whom must have bought tickets beforehand!), and that programmes be distributed…
"There were certainly more than a few challenges to attaining the record," admits Tatiana. "Before the concert could begin, our group leader Andrey Berezin had to verify the altitude, which was then filmed and confirmed by other members of the party. I then had to ensure there were at least 10 people in attendance – no mean feat when it's freezing cold and nobody wants to hang around! – all of whom had bought tickets during the ascent. Then I distributed printed programmes, and prepared to play."
With the temperature a chilling -38C, Tatiana took off several pairs of gloves, removed her hand warmers, and played for 17 minutes at a height of 6,700 metres – beating the previous record by 224 metres. "It was bone-freezing!" she exclaims. "After the first 30 seconds I could hardly feel my fingers! But I persevered, playing a selection of pieces by Rebel, Kanaletti and Handel."
The entire performance was videoed by an independent witness, while photographs were taken of both the altitude metre and the GPS coordinates. And all are currently in the process of being verified by Guinness…
"Evidence about the concert, including videos, photographs and written witness statements, is now being gathered for submission to Guinness World Records for assessment," says Tatiana. "And, since the verification process can take up to 12 weeks, now the wait begins…
"I'm feeling quite anxious, as this was such a daring undertaking, and it involved so many kindly people – the witnesses, videographer, and audience members – all of whom contributed hugely to the concert. But I'm fairly sure the Record will stand. And this performance will go down in history as the Highest Concert Ever Held!
"In the meantime," she adds, "I'm just enjoying being back in Cyprus, and playing at sea level! Music and mountaineering may not enjoy a close association in anyone's mind, but I find they have distinct commonalities. At a certain level, there's a daring, an elegance, to both music and climbing," she suggests. "Both are about achieving something beyond the norm: a feat that's unusual, and requires pure dedication. And raising the flag of Cyprus atop the highest peak in South America while giving a concert allowed me to combine three of my greatest loves: music, mountaineering and my magnificent homeland!"
For more information on Tatiana Stupak, visit the Facebook page 'Tati Nikolaevna'