This is a state with so many nicknames, but gastronomically it is known as the Donut Capital of the World. Today, however, Indiana is probably best known for the Indianapolis Motor Speedway, which hosts major racing events, such as the Indy 500, NASCAR, and Formula One. Built in 1909, the Speedway seats 250,000, and boasts an overall capacity of almost half a million; as the highest-capacity sports venue in the world.
But Indiana's sporting triumphs aren't solely car-based; locals are crazy about basketball, and the state produces many of the NBA's top players: Larry Bird, George McGinnis, and Shawn Kemp to name a few. It was also the site of the world's first professional baseball game (held in 1871 at Fort Wayne). And the state's capital is home to the Indianapolis Colts, an American football team that has twice won the Superbowl.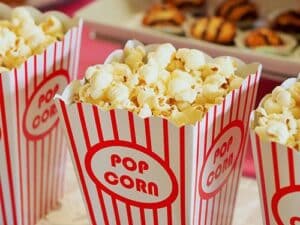 With such an emphasis on sport, it's no surprise that popcorn is the official state snack! Indiana falls firmly into the Grain Belt, and corn has been cultivated here since 1500BC; the state produces 25 per cent of the nation's popcorn (second only to Nebraska), estimated at a value of $75 million a year!
Of course corn on the cob is also incredibly popular, usually served alongside country fried steak, or basically anything barbecued – especially ribs! And the stodgy fare continues with the classic Hoosier biscuits and gravy (savoury scones laden with a sauce of drippings and bacon); the pork tenderloin sandwich (thinly pounded pork that's been breaded and fried, stuffed in a bun, and served with thick-cut chips); and chicken and waffles or chicken and fries.
Actually, any kind of chicken is a favourite in this state. While the dessert menu is loaded with sweet treats (the thick custard Sugar Cream Pie, cream-laden Butterscotch Pie, and plenty of sugary donuts), the main course is chicken more often than not – always fried, and usually breaded. Even Indiana's favourite son was said to fuel his performances with a bucket of Hoosier fried chicken between sets; no doubt 'Bad' for his digestion, but you just can't 'Beat It'!